Informasi Produk :
Dijual oleh

Rajakomputer 100% Verified Seller

SKU

AITC0CBK

Berat Pengiriman

1 kg

Garansi

1 Bulan

Pilihan Warna

Stok Sekarang
Android Tablet harga murah dan berkualitas hanya di JakartaNotebook !
SUPER DISCOUNTS

Nikmati belanja murah ditambah diskon spesial

1-DAY SHIPPING

Pesanan anda langsung diproses sesaat setelah pembayaran lunas

TOP PRODUCTS

Semua barang kami terjamin mutu dan kualitasnya

LOWEST PRICE

Kami selalu memberikan harga terbaik tanpa mengurangi mutu
Simulasi Cicilan Kartu Kredit
Bank
Jangka Bulan
Bunga
Jumlah Cicilan
Minimum Transaksi

0.75%
12 x 90.743
Rp. 500.000,-
Eazy Pay - Citibank
0.99%
36 x 37.641
Rp. 1.000.000,-
Promo cicilan ini hanya berlaku untuk pembelian langsung ke Toko Pusat di Jakarta Mininum transaksi adalah jumlah total yang harus dibayar dalam 1(satu) invoice
Overview of Ainol Novo 7 Venus 16GB Tablet PC 7 Inch Android 4.1 Jelly Bean Dual Camera
Features
Quad Core Chipset ACT-ATM7029 based on Cortex A9
Ainol Novo 7 Venus will be the world's first ACT-ATM7029 Quad Core Tablet PC released by Ainol. ACT-ATM7029 is a brand new chipset based on Cortex A9 Quad Core that was disclosed in Oct. 2012. Ainol showed its roadmap at the 2012 China Sourcing Fair in Hong Kong, Ainol Catalog for 2012~2013 shows all Ainol Quad Core Tablet PCs in the near future will be powered by ACT-ATM7029. Those ACT-ATM7029 Quad Core Tablet PCs will differ in:
Resolutin of screen; for example,1280X800,1920X1204,1024X768 and so on;
IPS screen or non-IPS screen;
Camera(s); such as single camera or dual cameras,or how big the resolution of camera is
The volume of Nand Flash;for example,8GB or 16GB or 32GB
Those ACT-ATM7029 Quad Core Tablet PCs will share:
ACT-ATM7029 based on Cortex A9 Quad Core
1GB DDR3 Ram
ACT-ATM7029 runs at up to 1.5GHz. ACT-ATM7029 is made in advanced 40nm LP which is about 2X faster and consumes about 1/2 power than other CPUs made by 65nm process technology. The performance of this quad-core should be close to the quad-core CPU used in Apple iPad 3.It features USB 3.0 interface which targets ultra-fast data transition and HDMI 1.4A which targets 1080P output. So you can play video or games on big screen.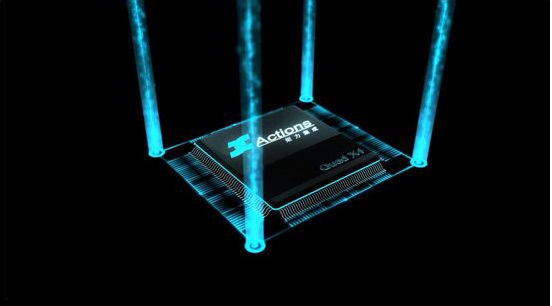 7 inch 5-Point touch HD 1280X800 IPS screen.
Currently,most 7 inch Tablet PCs even 9.7 inch Tablet PCs use 1024X768 non-IPS screen. But Ainol Novo 7 Venus features a much better one - a 7 inch 5-point multi-touch capacitive IPS screen. For those who do not know what IPS is, IPS stands for In-Plane Switching which was developed by Hitachi back in 1996. An IPS display gives you a better display, more vivid color, and a wider angle for viewing. See the comparison below.

5-point touch capacitance matters as well,especially in gaming,therefore when you play games,you can fully utilize the gaming tricks,for example,zoom in or out,move the figure.
Runs on Android 4.1 Jelly Bean,and is upgradable to Android 4.2.
Google has made numerous improvements on its latest Android OS – Jelly Bean 4.1. Google used to play a catchup game with Apple iOS, it becomes almost as excellent as iOS starting from Android 4.0 Ice Cream Sandwich. In order to release its own tablet in this Summer, Google worked with Taiwanese computer maker Asus very closely, fine tuned its OS in every detail, and released this Android 4.1, so called Jelly Bean. Ainol NOVO 7 Venus is the third tablet released by Ainol with Android 4.1 ( the first one is Ainol NOVO 7 Crystal which is being sold at $139.99 only,the second ons is Ainol Novo 10 Hero which is being sold at $219.99 only. Both Crystal and Hero are available in stock.), so Ainol has learned from its Crystal experience, and fixed bugs that were found in Crystal. Furthermore,Ainol Novo 7 Venus is upgradable to Android 4.2 as Ainol claimed. Android 4.2 is the latest Android Operating System which features many new and better functions over Android 4.1 Jelly Bean. Android 4.2 features newer views,newer functions and more powerful performance due to the Butter Project which is for faster and smoother performance as its name indicates. Currently,there are only Google and Samsung are featuring their tablets with Android 4.2. For example,Google Nexus 10 runs on the latest Android 4.2.
Mali400 Quad Core GPU
There once was rumors claiming ACT-ATM7029 features GC1000 GPU. But this is not 100% sure. As far as we dig from other Tablet manufacturers,like Ramos,Onda and Ployer, most probably ACT-ATM7209 features Mali400 Quad Core GPU. Mali400,designed and made by AMR,is the very best graphic processor chip in the same level of GPUs so far ever. It's most optimized and most compatible,so it has higher performance than all others. This means just only one single Mali400 GPU can handle most big 3D games. ACT-ATM7029 further adopts Quad Core Mali400. With 4 Mali400 GPU running at the same time,all Apps ,even the big 3D games,are running ultra-smooth.
Dual Cameras
Ainol NOVO 7 Venus has both front facing and rear facing HD cameras. The front camera is 0.3MP, the back camera is 2MP, not impressive comparing with the camera on NOVO 7 Flame. You can use them to shoot photo, record video, and conduct teleconference. You can switch between front and rear camera in apps. Skype is supported.
Ultra-fast DDR3 Ram 1.0GB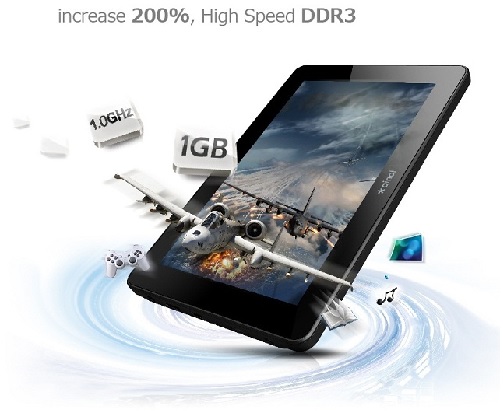 Ainol NOVO 7 Venus has 1GB DDR3 RAM (most tablets have 512MB memory). DDR 3 RAM is the latest memory technology, and it's 2X faster than DDR2 RAM. Large memory allows numerous tasks and apps to be run at the same time with no loss in speed or responsiveness. Furthermore this allows data to be processed faster, meaning 3D games run better than ever!
HDMI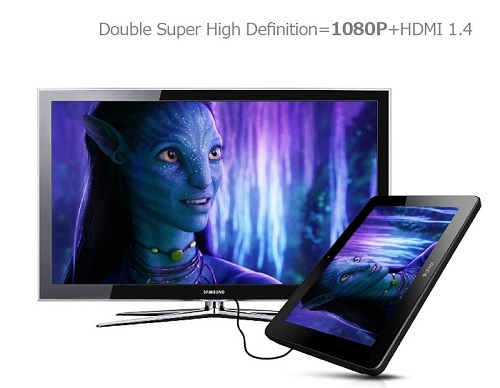 Ainol NOVO 7 Venus supports Full HD 1080P and other HD formats. Once you connect it to your HD TV via the HDMI cable (free gift from JSXL Technology), it automatically recognizes HD TV connection, and output video signal to TV. It displays on both tablet and TV for all operations.
Large Capacity 4000mAh battery
Ainol NOVO 7 Venus uses a a large 4000 mAh battery, while most of the 7 inch tablets' battery is about 3000 mAh. Battery is one of the most important factors to consider when buying tablet. Most of the Chinese tablet makers are trying to use less capacity battery to cut cost, while Ainol always selects the largest capacity battery for the best user experience. With one full charge of this 4000 mAh battery, you can listen to music for 12~15 hours, play video and 3D game 8 hours, and surf web for 8 hours. Keep in mind most of those performance tests were measured when WiFi is off or screen is off, so the real performance number will be slightly lower.
Pre-installation of official Google Play Store
Ainol NOVO 7 Venus supports Google Play. Google Play is pre-installed on NOVO 7 Venus – you can access and download more than 400,000 apps directly from your tablet.
Ultra-fast WiFi and 3G
Ainol NOVO 7 Venus supports Google Play. Google Play is pre-installed on NOVO 7 Venus – you can access and download more than 400,000 apps directly from your tablet.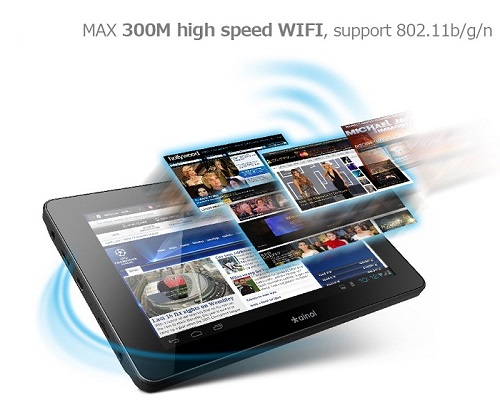 Ainol NOVO 7 Venus's WiFi chip is made by Broadcom – the industry leader on WiFi chips. It supports WiFi standard 802.1 b/g/n with a maximum speed of 300M. The WiFi chip in most of the Chinese made tablets are designed by either domestic fabless companies or design companies in Taiwan. WiFi compatibility is one of the common issues that we have seen (other than battery and charging). The Broadcom WiFi chip has better compatibility. NOVO 7 Venus also supports external 3G dongles (see supported 3G dongle list at the end for more details).
The most senstive gravity sensor on the market
NOVO 7 Venus has 3 axis gravity sensor, super sensitive. The gravity sensor is a common feature in pretty much every tablet. However, the sensitivity is different. Ainol always picks the most sensitive gravity sensor for their tablets.
Photos of Ainol Novo 7 Venus 16GB Tablet PC 7 Inch Android 4.1 Jelly Bean Dual Camera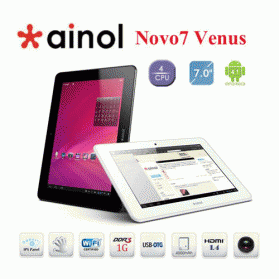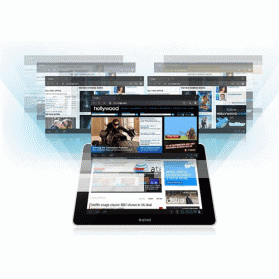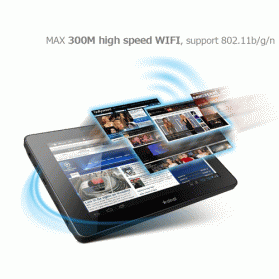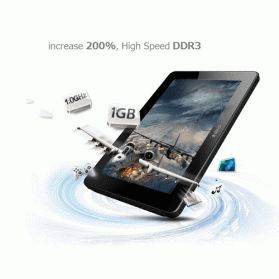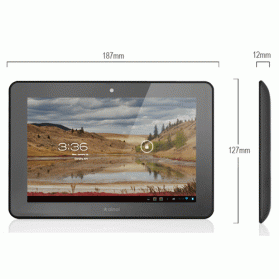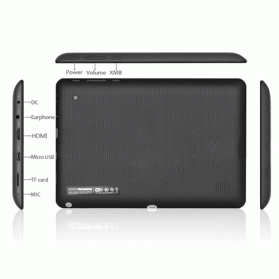 Video of Ainol Novo 7 Venus 16GB Tablet PC 7 Inch Android 4.1 Jelly Bean Dual Camera
Technical Specifications of Ainol Novo 7 Venus 16GB Tablet PC 7 Inch Android 4.1 Jelly Bean Dual Camera
Processor Onboard
CPU : Actions ATM7029 Cortex A9 quad core 1.5GHz
GPU : Vivante GC1000
Standard Memory
DDR3 1GB
Display Size
7 Inch
Display Max. Resolution
1280 x 800px
Display Technology
Capacitive Screen, IPS, G+G techlogy
Storage
Nand Flash 16GB , Support TF card up to 32GB extended
Wireless Network Type
802.11 b/g/n
General 3G Network
Not built in , support external 3G dongle: E1916, ZTE AC2736, HUAWEI E1750, HUAWEI EC122, HUAWEI EM770W
Bluetooth
No
Input Device Type
1xTF card slot; 1 x MINI HDMI port(v1.4)
1xMicro USB port (USB 3.0)
1x3.5mm Earphone port
1xCharging port
O/S Provided
Android 4.1.1 (Jelly Bean)
Software Support
Video : 1080P, AVI/MOV/MP4/RMVB/FLV/MKV
Music : MP3/WMA/WAV/APE/AAC/FLAC/OGG
Ebook : UMD, TXT, PDF, HTML, RTF, FB2
Flash : Support Flash 11.1
Other Application
ES File Explorer , Google Search, Google Maps, Browser, Gallery, Clock, Market, Calculator, Calendar, Video, Email, Gmail
Multi Touch
Yes, 10 points multi-touch + ALPS touch botton
Camera
Dual camera , front camera is 0.3 and back is 2.0 megapixels
Battery Type
Rechargeable Li-ion Battery
Battery Capacity
4000 mAh (Up to 6 Hour)
Language
Dutch, Indonesian, Catalan, Czech, Danish, German, English, Spanish, French, Croatian, Italian, Latvian, Lithuanian, Hungarian, Malay, Norwegian, Polish, Portuguese, Roman, Slovenian, Finnish, Swedish, Swahili, Vietnamese, Zulu, Greek, Ukrainian, Russian, Serbian, Bulgarian, Hebrew, Arabic, Turkish, Persian, Thai, Bengali, Japanese, Simplified Chinese, Traditional Chinese
Dimension
187x128x11mm
Weight
325g
Anak ku bisa tersenyum

by gunawan on May 6th 2013

tank's jaknotebook
setelah kutunggu beberapa hari akhirnya kado ulang tahun anak ku datang juga. untuk performa tablet yang satu ini cukup memuaskan

Mantap

by Halim Widjaja on Apr 19th 2013

JAXEZ - Barang akhirnya nyampe juga setelah ditunggu dari 4 hari sejak dipesan. Sepintas mirip dengan Flame tapi dengan material plastik. Thanks Jaknotebook, ini pembelian saya yang ketiga dengan anda, dan bukan yang terakhir.

touchscreen sensitif?

by hengki purnawan on Apr 14th 2013

touch screennya sensitif banget yak, kalo buat search pas mau ngetik huruf misalnya a, yang keluar gak karuan bisa lebih dari 4 huruf kok bisa begitu yak......
ntar ta coba2 lg deh

TOP BGT

by liong hua shiung on Apr 10th 2013

pas lagi survey tablet yang ok ternyata terlirik tablet yang satu ini karena processornya udah Quad Core Cui dan DDR RAM nya udah 1GB , asli pas beli dan mencoba performancenya AJIB!! main game 3D Real Racing -> tebas no lag. dah gitu tinggal beli OTG micro USB bisa langsung dikonekin ke mouse dan keyboard universal. TOP buat ainol sukses juga buat jakarta notebook buat jual ainolnya . kalu ada produk baru Inpoh2 yak

Setelah seminggu pakai

by Henri Suryanto on Apr 7th 2013

Saya terima Ainol Venus ini seminggu yang lalu. Saya puas dengan apa yang saya dapatkan. Layar yang tajam memudahkan saya membaca file2 words, xls, dan pptx yang memang saya perlukan dan dengan ukuran 7" relatif mudah dibawa. Kekurangannya adalah ketika butuh on-line, hrs ada alat tambahan (kabel OTG dan modem), shg menjd sdkt tdk praktis. Tp, utk harga kurang dari Rp1,5 jt, tablet ini sungguh fantastis.

tanya GPS

by Dody N L on Apr 7th 2013

Yang udah pake tolong di share tentang GPS.

Baru beli kemarin

by Steven Dewangga on Apr 2nd 2013

Uda sipp barangnya, Banyak lebih nya daripada kurangnya.
satu aja sih kelemahanya, input'' tambahan dijual terpisah. hehehehehe
jadi mesti kalo butuh yg lainnya mesti beli satu'' deh...
tapi sipp lah, dengan harga yang terjangkau....

ainol venus

by pasek gede sudiyono on Feb 7th 2013

Speknya bagus tu...mantapz........ Pengen beli dan kayaknya cocok bgt untuk buat ngegame ni....kapan ready stock ya???? Tolong cepet...

Tablet Mantap

by Habibullah on Jan 27th 2013

Ane tunggu ready stocknya jaknote. jangan lama2 ya....

About Ainol venus

by Dodi on Jan 23rd 2013 1 / 1 people found this review helpful

Tablet ini lumayan speknya.. setelah baca2 mulai dari prosesornya sampe baterainya dirasa tablet ini banyak di cari orang.. dengan prosesor ACT-ATM7029(A9 Quad Core) kecepatan => lumayan, RAM 1GB DDR3 => Bagu, OS Android 4.1(jelly bean) => mantap, ada bluetoothnya =>bagus, Display 7 Inch 1280X800 res IPS with full angel => cakep.. cumaa ga ada slot sim cardnya ya..tapi ga pa pa deh, mungkin ga jauh beda ama sodara2nya itu.. pake modem yang support ama keluarga ainol aja misalnya huawei e173. hehe.. kurang ama lebihnya.. banyakan lebihnya nih.. sip jaknot
Remind Me when Item is Ready