SUPER DISCOUNTS

Nikmati belanja murah ditambah diskon spesial

1-DAY SHIPPING

Pesanan anda langsung diproses sesaat setelah pembayaran lunas

TOP PRODUCTS

Semua barang kami terjamin mutu dan kualitasnya

LOWEST PRICE

Kami selalu memberikan harga terbaik tanpa mengurangi mutu
Paket Hemat
Harga Spesial apabila Anda juga membeli produk dibawah ini
Simulasi Cicilan Kartu Kredit
Bank
Jangka Bulan
Bunga
Jumlah Cicilan
Minimum Transaksi

0.75%
12 x 7.994
Rp. 500.000,-
Eazy Pay - Citibank
0.99%
36 x 3.316
Rp. 1.000.000,-
Promo cicilan ini hanya berlaku untuk pembelian langsung ke Toko Pusat di Jakarta Mininum transaksi adalah jumlah total yang harus dibayar dalam 1(satu) invoice
Overview of Option GlobeSurfer X.1 3G + Print Server + NAS (Logo STC)
Power in Palm of Your Hand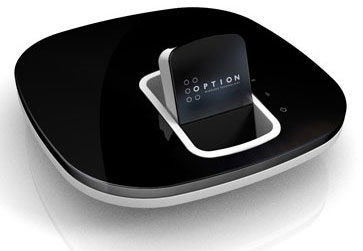 The Globesurfer X.1 is a compact and bijoux gateway router device that allows anyone with a USB Modem stick to easily and reliably connect to the internet.
The device uses no installation software, as it's built in browser GUI (Graphical User Interface) will enable users to access the features by simply opening any internet browser (such as Explorer, Safari,FireFox and Opera).
When no USB Modem is inserted into the Globesurfer X.1, the device will still establish a LAN (Local Area Network), and allow computers supporting Wi-Fi to access the networking features of the device. Clients without Wi-Fi can also connect via the Ethernet ports on the rear of the device.
Features
Compact form factor
This makes the Globesurfer X.1 a pocket size device that can easily travel with you. It is made of sturdy plastics that are robust enough to take the knocks commonly associated with travel and packing of computer equipment. The USB connector is adjustable, so when not in use, retracts into the casing of the device, leaving a perfectly flush, rounded surface, aesthetically pleasing and stylishly designed.
"Unlocked" to support all primary USB Modem providers
In this world of constant technological change – people will buy USB Modem devices from many different tier 1, 2 or 3 manufacturers. Option realises that not everyone is going to find our portfolio of high quality, reliable USB Modems to their liking, and will buy from other suppliers. It is for this reason we have 'unlocked' the device, thereby ensuring whosever USB device you decide to use, will be supported by the cradle. It is the ideal "Go Anywhere, Connect Anyone" scenario.
Wi-Fi 802.11b,g and n (MIMO, 160Mbs) supported
With an 802.11n router you will find a wireless experience that outpaces all previous wireless technologies. It has real world throughput that clocks in at 160 Mbps or faster—seven times faster than 802.11g networks.
The key to this speed is MIMO (multiple input/multiple output) which uses multiple antennas to send and receive digital data in multiple simultaneous radio streams, thus multiplying total performance. The bottom line: with 802.11n, you can share data, photos and music among multiple devices in the home faster and at greater distances than ever before.
2 Ethernet Ports (1xLAN and 1xWAN)
Two RJ45 Ethernet ports extend the reach of the Globesurfer X.1. By plugging in to the LAN port, clients not having Wi-Fi. get direct access the LAN, WAN and Internet. An Ethernet hub device can be plugged in to extend the number of available ports. The WAN port allows the X.1 to be connected to an Ethernet network or ADSL modem to provide WiFi AP functionality. This gives you the option to switch between networks for increased resiliance.
2 USB Ports (File Server and Printer Server compatible)
As well as the USB port for the USB Modem device, a secondary USB port provides File Server and Print Server functionality, allowing clients to use the cradle as a centralised LAN storage facility (also known as 'network attached storage, or NAS'), or centralised Printer location. This 'always available' solution is ideal for nomadic users who want the ease of backing up their notebook or netbook computers, ensuring if they lose or damage their PCs, they always have a disaster recovery solution available. It also allows for multiple users to print to the same device, without having to have it connected to their PC's.
Hidden LED's displaying status
Hidden beneath the glossy black veneer lie 4 LED's that indicate the activities of the cradle device. Each icon is only illuminated when in use, and is completely hidden when not. The LED behaviour informs the client of: Power availability, Physical Device Connection (RJ45), Wi-Fi activity and USB Internet Connection established.
Plug and Play, no Software installation required
In keeping with the Router gateway portfolio, the Globesurfer X.1 does not require any software installation to work. By launching any supported browser, and typing in the URL for the cradle, the graphical user interface will then allow client to set up the LAN. Once a USB Modem is inserted into the cradle device, it will detect the device present, and then present the client with the setup options (API etc), and finally present them with the 'Connect' button, thereby opening the gateway to the internet.
See more about USB modem compatibility list in this link :
Compatibility
Photos of Option GlobeSurfer X.1 3G + Print Server + NAS (Logo STC)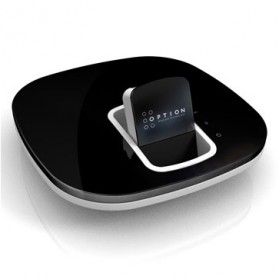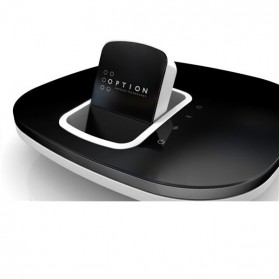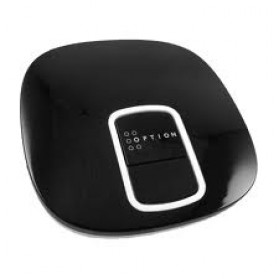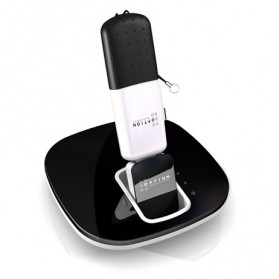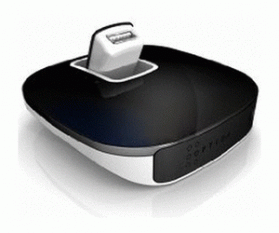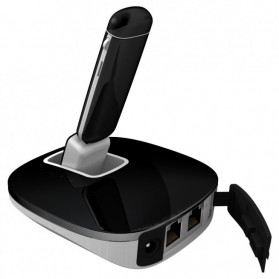 Technical Specifications of Option GlobeSurfer X.1 3G + Print Server + NAS (Logo STC)
Frequently Asked Questions (F.A.Q.)
q

baru buka paketnya trus colokin modem +routernya tapi blm bisa connect. ada yg tau cara input lock codenya dimana? udah nanya dari tadi blm dijawab sama jaknote

a

informasi LOCK Code tertera pada box kemasan. apabila kesulitan untuk mendapatkannya, hubungi cs kami via email : cs@jakartanotebook.com dengan menginformasikan SN/IMEI unitnya.
mantappppp

by Fikky Todo Maykall on May 2nd 2015

jujur saya awaw untuk install jaringan internet

awal beli sampai rumah kotak katik nga bisa dan pasrah,
pada esoknya saya penasaran kotak katik sambil liat review dari jaknotkers lainya, baca satu persatu dan sambil googling
ntah kenapa sambil kotak kati ternyata berhasil..
sekarang dirumah pake laptop dan hp android menggunakan wifi ga perlu keluar kamar cari sinyal karna Option GlobeSurfer X.1 3G + Print Server + NAS (Logo STC) - Black saya taro di luar kamar

alat agak anget, untuk kecepatan mantaplah saya beli yag paketan dan pake sim card mentari signal full area pancoran, mungkin si option globe ada penguat signal juga di dalamnya ;)

dah ga tau berapa banyak barang yg saya beli di jaknot JKT (satu kawasan sama kantor) semua terpakai dengan baik

thanks jaknot and jaknotkerz yang rajin masukin review


3g router murah mantap

by Oky Widya on Apr 29th 2015

cukup untuk mengcover satu rumah, tadi tes sinyal nyampe rumah tetangga -+ 15 meter kehalang tembok + mobil masih dapet satu bar hahaha ajaib, udah teknologi mimo data transfer rate jadi lebih besar, mungkin untuk menunjang fungsi file servernya kali ya , bentuknya mungil dan lucu juga, koneksi dari wifinya oke, colok langsung via lan ke pc oke, colok dari modem speedy juga oke, tak coba pake usb extender 5 meter ( hasil modif kabel utp ) oke, bandwith dari modem bisa di ambil semua tanpa putus2, bisa jadi file server tak coba colok flash disk,

kekurangan menurut saya engga ada pengaturan Qos, jadi bandwithnya rebutan kalo ada yang download, tidak bisa liat statistik data dari modem / client yang keluar masuk, kadang respon si router aga lemot kalo file server aktif, terlalu simpel ( bagus untuk pemula sebenernya )

selebihanya oke, apalagi liat dengan harga segitu, masa minta lebih lagi haha

Eddy Barus

by Muhammad Eddy Tea Barus on Jan 27th 2015

Barang sudah diterima , komplit dengan unlock kode. So far so good. Tq

MANTAPPPPPPPPPPPPPPPPPPP!!!!!

by Permata Kusuma Dewi on Jul 14th 2014

Pokok e mantap dah router nya!
Thanks JakNote :)

Layanan memuaskan, harga murah, produk berkualitas

by eko joko suranto on Jan 18th 2014 1 / 1 people found this review helpful

Pertama
Waktu browsing produk router untuk sambung wifi dari kabel lan, nemu produk ini option-globesurfer-x.1-3g, setelah liat review di beberapa toko online akhirnya diputuskan untuk beli produk ini.
nah setelah itu baru liat-liat harga di internet, ternyata di jakartanotebook ini yang paling murah dan paling besar kasih diskonnya. luar biasa. trus akhirnya pesan OL deh.
Awalnya saya kira barangnya akan tiba lama, paling tidak 3-4 hari karena saya pesan hari jumat, jadi perkiraan hari senin baru sampai. Walau saya tinggal dibekasi tapi gk nyangka akan tiba hari sabtu siang. Ini juga luar biasa.
Terima kasih.

Kedua
Review
Waktu bongkar-bongkar kardus, barangnya lumayan bagus, lengkap karena ada kabel LAN segala.
Saya butuh sambungan wifi dari kabel LAN karena berlangganan internet dengan jaringan kabel.
awalnya bingung bagaimana cara settingnya. trus baca buku petunjuknya, kecil-kecil tulisannya hampir gak kebaca, ada juga gambarnya gk jelas juga tulisannya.
setelah ikuti instruksi, alhamdulillah nyambung deh semua perangkat ke wifi. mulai dari komputer, laptop dan galaxy TAP
harapan saya, barangnya semoga awet.

terima kasih atas layanannya. semoga bukan hanya saya yang puas.
Layanan memuaskan, harga murah, produk berkualitas.

Extra Miles Satisfaction

by Panji Pujangga on Jan 9th 2014

Awal gw pingin beli router ini, karena kerjaan gw banyak berhubungan dengan browsing dan downloading, awal nya sempet bingung pilih yang mana karena banyak option barang sejenis di jacknote, setelah gw cocokan dengan spec kebutuhan dan budget di kantong, gw langsung jatuh cinta..kirim ke balikpapan dua hari langsung sampe...langsung tes, awal setting sempet bingung, tapi ada manual book termasuk di dalam paket nya, tinggal ikutin langsung cara setting nya gampang kok...after pas udah ON, gw tes langsung ngacir pakai modem dengan kartu3..padahal udah tarik-tarikan 4 device yang ikut gabung di router ini, masih tetep lancar jaya buat download, Jacknote the best..pelayanan OK, Prima, kualitas barang Yahud..dan soal harga...Gak bakal lu nemuin yang lebih murah di tempat lain, selain di jacknote, kepanjangan ye..hehe JACKNOTE No Need To Argue !!!!

ini barang yang udah lama aku cari

by Sigit Agus Riswanto on Sep 22nd 2013

Baru Siang Tadi beli di jaknot dengan acc keponakan.. ini dia barang yang aku cari router yang suport adsl/gsm/cdma sekaligus... nggak nyesel beli ini barang..

Huawei 1550 dengan globesurfer

by arso hartomo on Sep 2nd 2013 2 / 2 people found this review helpful

Arso Hartomo.
Dua hari yang lalu saya langsung datang ke Jaknot membeli produk ini. Sampai di rumah saya mencobanya, tetapi tidak dapat berjalan. Saya optimus karena sudah ada yang memakai modem ini berhasil. Kemudian saya ikutin cara menunlock dan merubah setingannya belum berhasil. Kemudian saya ulangi kembali dengan memberi password WPA nya saya reboot ternyata berhasil.
Thanx Jaknot !

Memuaskan

by Iyus Roban on Jul 24th 2013

Produk ini sangat memuaskan dengan jangkauan wifinya lebih jauh dibandingkan dengan router yang ada

cara unlock

by Andrew on Mar 28th 2013 8 / 9 people found this review helpful

bagi yang modemnya masih belom terdeteksi, router ini harus di unlock dulu (dengan catatan tipe modemnya harus support ya, kalo tipe modem ga support ya ga bakal bisa terdeteksi)
cara unlocknya:
1. colok power ke router, colok router ke pc
2. jalankan browser di pc ketik alamat 192.168.1.1
3. untuk user dan password adalah: "admin" (tanpa tanda petik)
4. pilih advance mode
4. dibagian network pilih wwan
5. masukan unlockcode (punya saya tertulis di dusnya)
untuk gambarnya bisa lihat di
http://flic.kr/p/e6KmcY
semoga membantu
Load more review..
Remind Me when Item is Ready