Creating New Worlds of Light
What is P series ?
New high performance line combines innovations unprecedented in the history of flashlights. The Reflector-Lens of the Advanced Focus System, the Speed Focus, the Battery Cartridge, a new Dynamic Switch concept and last but not least the incredible luminous intensity of our chips are but a few of the novelties that will revolutionize the world of flashlights and head lamps.

What is P3 ?
LED LENSER P3 is the twin brother of LED Lenser P2, but due to its bigger lamp head, it has an increased lighting range. The Blue Moon Focus System allows for quick transition from circular low beam to focused longdistance light. The lamps ergonomically perfect clip is as convincing as its battery concept: one alkaline battery (AAA micro cell) costs about 25 Eurocent at the discount store and supplies power for many hours of light.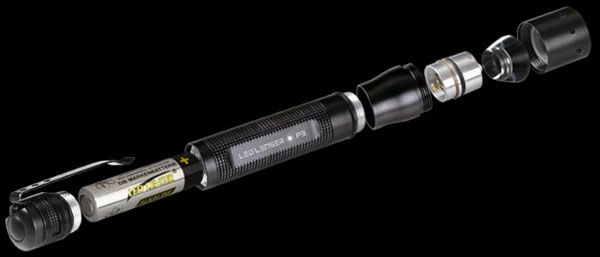 Features
Rapid Focus
With our rapid focus system you can go from reading to searching by using the thumb on your holding hand to simply slide the bezel away from you. One hand, one movement, seamless transition from close to far and all points in between.
Blue Moon Focus System
Thanks to special prismatic structure, this lenses separate parts of the blue spectrum from the white spectrum. The blue components are thus projected to the edge of the light cone and the result is an excellent, clean white light to read by with a mellow blue circle to frame the reading area. Blue Moon optics make reading and general viewing easy on the eyes for less eye fatigue. Blue Moon Focus provides a brighter, whiter beam of light.
Handy Pocket Clip, Wrist Strap and Belt Pouch
You can easily take this flashlight wherever and whenever you like with handy pocket clip, wirst strap and belt pouch just like a pen.
We reserve the right to make changes within the product development.Luminous flux (lumens) resp. max beam distance (meters) in the brightest function when switching on with a fresh alkaline battery. Average values, may vary +/- 15% depending on type of chip and batteries.
** Average hours of burning life as measured until residual luminous flux amounts to 1 lumen.