Xtreamer Prodigy
|
SKU
:
XTMP04XX
Shipping Weight
:
2.50 kg
Warranty
:
2 Tahun ((Tahun pertama Spare part + Tahun kedua Service))
Status Stock
:
:
Available Color
:
-
Additional Information :
Without Wireless WiFi
More info : http://www.xtreamer.net/xtreamer-prodigy-upgraded/, Free T-shirt Xtreamer
Promo Cicilan Kartu Kredit
---
0.75%
Bulan
12 x 136.160
500.000
---
2%
Bulan
24 x 92.439
500.000
---
0.99%
Bulan
36 x 56.479
1.000.000
Promo Cicilan ini hanya berlaku untuk pembelian langsung ke Toko Pusat di Jakarta
Minimum transaksi adalah jumlah total yang harus dibayar dalam 1 invoice
Overview of Xtreamer Prodigy
Why Pay More?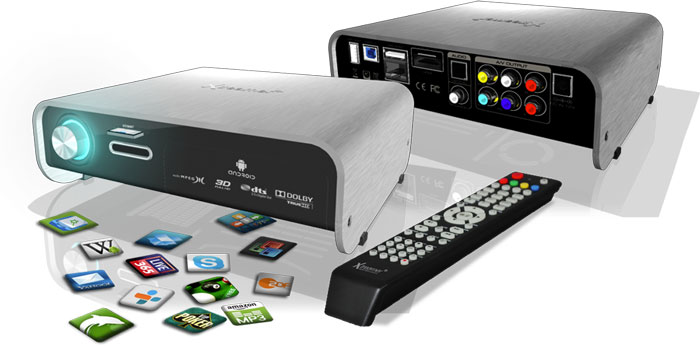 Xtreamer Prodigy will revolutionize media player world As it is the first Full HD Media Player with 3D support with affordable price.The demand for a 3D capable media player is already apparent as 3d LED market become mature and more popular. The Xtreamer Prodigy! 3D Full HD Media Player delivers the most connected media player with the fastest consumer electronics USB 3.0 connectivity coupled with HTML 5 API, Web browser and innovative most advanced GUI and functions.
If you are looking for a machine that is capable to do nearly everything an HTPC can do and more, the XTreamer Prodigy is your answer. The Xtreamer Prodigy, even priced below 149 Euro is mainly aimed for the setting of a modern media playback solution that works out of the box.
Features
3D Playback

Xtreamer Prodigy is the first 3D capable media player in the market that brings the full experience of the real high-tech cinema to your living room.

DVB-T Tuner

Watch and record digital TV broadcasts, browse the electronic programming guide, schedule recordings. This is a double tuner that will allow you to record a program on one channel while watching another.

7.1 HD Audio Streaming

The Xtreamer Prodigy supports DTS-HD Master Audio and Dolby TrueHD multi-channel lossless audio codecs with up to 7.1 CH passthrough. The result is your media streamer will be able to play bitstream that can carry up to 14 discrete sound channels. Sample depths up to 24 bits/sample and audio sample rates up to 192 kHz are supported.

HDMI 1,4

With new capabilities designed to push the boundaries of the HD experience. The Xtreamer prodigy features the critical infrastructure for implementing 3D video in the home, defining input/output protocols that will allow 3D displays and source devices to communicate through an HDMI link. The video resolutions can go far beyond 1080p, supporting next-generation displays that will rival the Digital Cinema systems used in many commercial movie theaters.

GB Networking

The Xtreamer Prodigy come from factor with Gigabit Ethernet that allows network transfers up to 1.000 Mbps. Users will be able to stream information at high rates of speed over long distances.

3TB Drive Support

The Xtreamer Prodigy is probably the only device in the market that currently support 3Tb size HDD. With Prodigy you will be able to enjoy the highest density hard drive, as they reach the 3TB mark with their newest, 5th generation HDD. To go along with its massive storage capacity, the 3TB serves up a super-sized combination of reduced power consumption, lower operating temperature, and a quieter working environment.

Android

Xtreamer Prodigy opens for you the wonderful world of thousands upon thousands of Android applications enhancing your player with games, Internet programs, social networking, chatting, blogging, document viewing, e-mailing and more.

Keyboard and Mouse Support

The Xtreamer GUI as well as the integrated web browser introduce support for user interaction via USB mouse and keyboard. Another exclusive feature from Xtreamer.
Package Contents
All item you get from the box :
Xtreamer Prodigy (HDD&WiFi 802.11n Antenna are not included)
HDMI 1.4 Cable
12V 2A Power Adapter
Audio & Video Cables
Infra-Red Remote Control with 2 "AAA" batteries
USB Slave cable
Quick start guide
Specification of Xtreamer Prodigy
Chipset
:
Realtek 1186 750 MHz
Standard Memory
:
512MB DDR3
Storage
:
Internal hard disk drive (3.5" SATA up to 3TB)
External USB mass storage devices (USB2.0 or 3.0, hard drives, flash drives)
Media Cards
USB sticks and other USB mass
storage devices
A/V Out
:
HDMI 1.4 interface up to 1080p
Composite Audio / Video
Y/ Pb / Pr Video
SPDIF coaxial (digital audio)
SPDIF Optical TOSLink (digital audio)
Networking
:
Wireless : 802.11n (WIFI USB Antenna not included)
Wired Gigabit : RJ-45 10/100/1000
Input Device Type
:
USB 3.0 and 2.0 Interfaces
Add ports with USB hubs, USB card readers
2x USB 2.0 (USB-A)
1x USB 3.0 Slave Port (USB-B)
Software Support
:
External File System Supported : FAT, FAT32, NTFS, EXT3, HFS+

Video Formats Supported :
AVI / MKV / TS / TP / TRP / M2TS / MPG / MP4 / MOV / M4V / VOB / ISO / DVD-ISO / IFO / DAT / WMV / ASF / RM / RMVB / / BD-ISO FLV resolution up to 720p / 1080i / 1080p

Video Codec's Supported :
MPEG-1 / MPEG-2 / MPEG-4 SP/ASP/AVC (H.264 | x264) / XviD / DivX / WMV9 (VC-1) / RealVideo 8/9/10 (up to 720P)

Video Output Supported :
PAL / NTSC / 480p / 576p / 720p / 1080i 50Hz / 1080i 60Hz / 1080p 50Hz / 1080p 60Hz / 1080p 24FPS

Audio Formats Supported :
MP3 / MP2 / WMA / AAC / FLAC / WAV / APE OGG Vorbis / PCM / LPCM / MS-ADPCM / LC-AAC / HE-AAC / COOK / RA-Lossless

Audio Output Supported :
- Stereo
- Dolby Digital AC3 5.1 (passthrough & downmix to stereo)
- Dolby Digital Plus 7.1 (passthrough)
- Dolby TrueHD 7.1 (passthrough & downmix to stereo)
- DTS Digital Surround 5.1 (passthrough & downmix to stereo)
- AAC 7.1 (passthrough & downmix to stereo)
- FLAC

Image Formats Supported : JPEG, HD JPEG, BMP, GIF, TIF, PNG

Subtitles Format Supported : SRT, SMI, SSA, IDX/SUB, SUB

Character Sets Supported (Needed for Subtitles) :
Unicode (UTF8), BIG5 (Traditional Chinese), Western, Turkish, Central European, Greek, Cyrillic, SE European, Russian, Hebrew, Arabic, Japanese, Thai
Others
:
Cooling : Passive cooling - Builtin
Video of Xtreamer Prodigy
Customer Reviews of Xtreamer Prodigy
All Reviews (5)
boleh di coba (2 of 2 people found this review helpful)
1 year ago
By chandra
untuk harga segini lumayan dari pada built CPU untuk nonton film, tapi untuk disambungkan dengan AVR via HDMI milik saya kok jadi susah,(kadang suara dan gambar tidak bisa muncul di LCD) , trus klo baca file dari FD kadang ada file yang tak terbaca( apa perlu upgrade FW?)overall nice lah, kirim paketnya juga cpt gw pesen kamis sore sabtu pagi dah sampai. lokasi gw di MLG.
Gak sabar (1 of 1 people found this review helpful)
1 year ago
By Eriyanto G Mada
Lagi nunggu barang datang nih, aku jd gak sabar mo compared dgn MED8BER yg sdh duluan nongkrong di rak TV sejak 1thn silam. Cepetan donks jaknooot
Media Player + Internet TV (1 of 1 people found this review helpful)
1 year ago
By Wahyuddin
Produk ini bukan hanya media player biasa, tetapi dengan androidnya kita dapat browsing dan review ini saya tulis dari XTreamer Prodigy, dengan tambahan mouse & Keyboard wireless 2.4G
top banget (3 of 3 people found this review helpful)
1 year ago
By Andri Wiratmono
setelah order pada hari senin tgl 20 desember 2011, barang sampai ke kediri jawa timur hari kamis pagi, dari dos box nya uda keren, kelengkapannya sangat lengkap, dari kabel HDMI, kabel AV, Adaptor, Batray Remote, Remote Control, setelah saya pasang Hardisk SATA 320GB, format jg cukup cepat, menggunakan Filesystem NTFS, produk ini juga bs dihubungkan ke jaringan lokal atau internet melalui Kabel RJ45, Semua Media yg tertancap di prodigy bs diakses melalui jaringan P2P (Sharing File), produk ini jg bs konek internet, bs dipakai utk buka Facebook, streaming video baik dr youtube atau aplikasi yg sdh disediakan, Pokoknya produk ini tidak mengecewakan deh,
istimewa (5 of 6 people found this review helpful)
1 year ago
By gundrik
beberapa bln yg lalu saya searching hdd media player yg terbaik. sampai akhirnya dlm browsing saya temukan media player xtreamer ini.stl baca2 fungsi nya saya sangat tertarik dan mengetahui klo d jaknot sdg dlm proses permintaan item ini.stl pesan beberapa hari brg saya terima dan whola... ibi barang teristimewa...saya sgt puas,begitu jg dg jaknot. thx a lot..