Ainol NOVO 7 Aurora II ( Aurora 2 )16GB LG IPS HD Screen Android 4.03 Dual Core - White
|
SKU
:
AITC06WH
Shipping Weight
:
1.00 kg
Warranty
:
1 Tahun
Status Stock
:
:
Available Color
:
Additional Information :
Android Tablet harga murah dan berkualitas hanya di JakartaNotebook !
Promo Cicilan Kartu Kredit
---
0.75%
Bulan
12 x 127.076
500.000
---
2%
Bulan
24 x 86.272
500.000
---
0.99%
Bulan
36 x 52.712
1.000.000
Promo Cicilan ini hanya berlaku untuk pembelian langsung ke Toko Pusat di Jakarta
Minimum transaksi adalah jumlah total yang harus dibayar dalam 1 invoice
Overview of Ainol NOVO 7 Aurora II ( Aurora 2 )16GB LG IPS HD Screen Android 4.03 Dual Core - White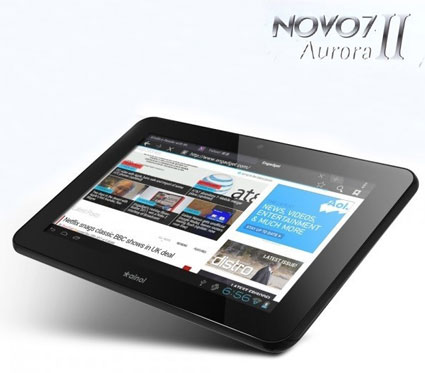 As a domestic brand, Ainol have done a great job to make their brand become household. If this is a battle of tablet, Ainol Novo 7 Aurora II is absolutely the most important fighter in this war. Ainol Novo 7 series have occupied a big marketing share due to their fashionable appearance, portable design, outstanding configuration and excellent operating system. Ainol Novo 7 Aurora II is exactly the best reflection of these features with its Amlogic AML8726-M3 CPU, wide-screen IPS display and steady performance.
Major configuration of Ainol Novo 7 Aurora II
7 inch IPS display with 1024*600 resolutions, 5 points capacitive screen
2D and 3D graphics accelerated with updated 1080P decoding Mali400 GPU.
9.9 mmm thickness, F2.0 webcamera
Pre-installed the latest FLASH player v11.1.
Android 4.0.3 operating system
All of which makes the Aurora capable of much more than you ever imagined.
Features
Lightweight and fashionable appearance
Thickness of Ainol Novo 7 Aurora II is 9.9mm only. The net weight is only 320g. Now more and more manufactures are interested in 7 inch tablets due to its portable and smart features. The popularity of Ainol Novo 7 series also proves that 7 inch tablet will be a trend of tablets. Ainol Novo 7 Aurora II has white color and black color for options. White and black are the classical color of tablet, with the polish technology of the body; all these make the Ainol Novo 7 Aurora II looks gorgeous and modern.
CPU
Ainol Novo 7 Aurora II sports the AML8726-M3 processor of Amlogic which is one of the leading processor manufactures in the market. With this processor CPU, Ainol Novo 7 Aurora II has a smoother and faster operation based on the cooperation of these features. In-built independent Mali400 GPU with 1G DDR3 high speed RAM makes the Ainol Novo 7 Aurora II obtain an outstanding performance in 3D games. Amlogic AML8726-M3 is the new standard of tablet pc due to its smart mutli-task management and low power consumption.
Android 4.0
Ainol Novo 7 Aurora is famous for the reason that it was the first tablet pc comes with the Google's Android 4.0 Ice cream Sandwich operating system. Same as the Ainol Novo 7 Aurora, Ainol Novo 7 Aurora II gets thousands of games and apps for your options in the Android plateform, and most of them are free charge. All kinds of 3D games and practical office software can work smoothly on Ainol Novo 7 Aurora II due to the great compatibility.
5-point wide-screen LG IPS display
Ainol Novo 7 Aurora II gets a new 7-inch 16-megapixel LG IPS display which is able to offer you lifelike photos and vivid details. 1024*600 resolutions on 7 inch tablet make the Ainol Aurora II looks more exquisite and meticulous. Ainol Aurora also supports five points of touch which brings you an exceptional experience while playing games.
2-megapixel front-facing camera
The Ainol Novo 7 Aurora II equips with a front-facing 2-megapixel camera. This is helpful for social buffs. It's very useful for making an online conference or a conversation in Skype.
WiFi and HDMI output
Ainol Novo 7 Aurora II gets a steady and strong signal of WiFi. Being separate by a wall and 4 meters, the Aurora can still get 2 signal frames. If you are not satisfied with the small screen, HDMI would be a great choice. Connecting the tablet with your high resolution TV set, enjoying the latest Tatanic with your family or watching the football and drinking your favorite Heineken beer, isn't amazing.
Specification of Ainol NOVO 7 Aurora II ( Aurora 2 )16GB LG IPS HD Screen Android 4.03 Dual Core - White
Processor Onboard
:
Amlogic 8726-M6 Cortex-A9 Dual Core 1.5Ghz
Standard Memory
:
DDR3 1G 1333MHZ
Display Size
:
7 Inch
Display Max. Resolution
:
1024 x 600px (16:9)
Display Technology
:
LG IPS Touch Screen
Storage
:
16GB
Wireless Network Type
:
802.11 b/g/n
General 3G Network
:
Not built in, support external 3G dongle
Bluetooth
:
No
Input Device Type
:
DC Input
USBx1
Mini USBx1
TF Card Reader
Mini-DHMIx1
3.5mm Audio Jack
MIC
Power On/Off
Menu
Volume Up Down
O/S Provided
:
Android 4.0.3 (Ice Cream Sandwich)
Software Support
:
Video : 1080P, AVI/MOV/MP4/RMVB/FLV/MKV
Music : MP3/WMA/WAV/APE/AAC/FLAC/OGG
E-Book : UMD, TXT, PDF, HTML, RTF, FB2
Flash : Support Flash 10.2 (Adobe designed for Amlogic)
Multi Touch
:
Yes, 5 points touch
Camera
:
Front camera 2 Megapixels
Battery Capacity
:
4000 mAh (up to 15 hour)
Dimension
:
186*120*11.9mm
Weight
:
342g
Video of Ainol NOVO 7 Aurora II ( Aurora 2 )16GB LG IPS HD Screen Android 4.03 Dual Core - White
Customer Reviews of Ainol NOVO 7 Aurora II ( Aurora 2 )16GB LG IPS HD Screen Android 4.03 Dual Core - White
All Reviews (22)
info kpn barang ada stock lagi
1 year ago
By Agus jp
jaknot. info kpn brg ada lagi saya sangat tertarik....
Murah tapi tidak Murahan (2 of 2 people found this review helpful)
1 year ago
By papagavin
saya beli bulan 30 Agustus 2012, baru sempat bikin review hari ini.
awalnya dapat rekomendasi beli device ini dari beberapa member milis id-android. tadinya sempat nggak yakin, pas barang datang WOW.... ini tabet beneran "harga murah tapi tidak murahan !!!"

walau ada kekurangan, tapi dengan harga yg cuma 1/3 (sepertiga-nya) dan tapi dibandingkan GTab-2 7 ternyata nggak kalah kualitas dan performancenya (tanpa memperhitungkan koneksi 3G) .

ini tablet MANTAP DEH !!!

(+) Kelebihan
- tipis dan enteng
- layar tajam, jernih saya dandinnga GTab-2 10.1 tidak kalah
- game 3D lancar : FIFA12, Aspalth6, PES 2012, Mass Effect, VirtuaTennis, smooth banget.... mantap. anak saya nggak mau lagi pake PSP3000 nya sejak pake ini :)
- muter filem Animasi 3D juga halus banget: Adventure of Tintin, Rapunzel, dsb

(-) Kekurangan
- touch screen kadang lari/ga sensitif, swipe/geser gambar kadang jadinya klik
- penerimaan WIFI nya kurang OK, diruangan yg sama di GalaxyS2 dan Laptop dapat 4 bar, di tablet ini cuma 2bar bahkan kadang hilang/putus
- nggak
sayang anak sayang anak
1 year ago
By dezinfectant
pesen pagi, sore barang diantar :))
charger sempet tidak disertakan karena out of stock, tau2 aja seminggu kemudian dikirim via pos ke kantor.

(+)
- Value over costnya bener2 tidak sebanding, silakan coba :D
- Saya pakai ini buat baca ebook. Meskipun cuma 7" sangat enak buat baca ebook A4 dengan bantuan aplikasi Perfect Viewer.
- Saya pake buat pengganti electric dictionary, karena alfalink kemahalan.. Banyak apps offline buat kamus kok.
- Pake mp3 splitter + 2 earphone, bisa nonton film berdua sama pacar di kafe gitu :)) *pelit*



(-)
Sayangnya cuma ngga disertai kabel buat konekin ke modem sih, musti hunting ke ambasador..

Very recommended.
Ainol Aurora 2
1 year ago
By nadiem ahmad
performa tablet ini melebihi harga yang ditawarkan, gambar juga jernih.
namun sedikit kekurangan tidak adanya 3g, kesulitan kalau mau internet di area yang tidak ada wifi. kalau pakai modem 3g sedikit mengganggu.
Aurora II Mantabs
1 year ago
By Reza Fauzi
Layar ok sekali,, performa Super (benchmark pake antutu ampe 7400),, Game HD ok,, kerenn sangad dah ni tab ...
repiu
1 year ago
By Deni Marton
Murah meriah, dengan kekurangan kecil di sana sini.
Adptor nya baru beli udah matiii... kayaknya adaptor gak masuk warranty, make sure sebelu di bawa pulang di test dulu bisa ngecas apa kagak adaptornya. Waktu beli ada orang lain yg komplen sama dodolnya gw gak ikutan ngetest.

Layar ok, cukup mantul, tapi mengingat haganya sudah sangat oke.

Motor vibration nya berisik, kayak mau lepas, mending di matiin aja.

Touch screen sensitivitasnya kalau firmware bawaan P.A.R.A.H... kalo browsing di poisi zoom in, lagi scroll sana sini bisa di anggap gerakan zoom out, terus gak bisa buat copy dan paste karena touchnya gak di detect sebagai long touch, really annoying,
Firmware Feiyu 4.0.4 much much better, wajib ganti.

Di game yg butuh 2 finger touch bersamaan, misalnya game fps kayak shadowgun, di posisi 2 finger ouch tapi diem, kayak di detect agak bergerak / getar, sedikit agak annoying kalau main game yg butuh presisi.

FW bawaaan interaksi terasa agak lemot, dual core A9 koq ya bisa lemot. FW feiyu mayan deh, agak mendingan. Di browser tetep gak bisa di bilang cepet pas scroll sana sini.

Sound dari spkr kenceng, sound dari earphone juga super loud, ok.

Overall minus gede nya yg mengesalkan cuman touch nya yg jelek/aneh/tidak presisi, kalau kagak mah udah mantab banget...
puas sekali......
1 year ago
By Danan Tyas
sangat puas, sampai2 berani rekomendasikan ke teman2, d kantor. pelayanan Jaknot juga bagus
Fitur dan Teknologi yang Menawan, Charger Buruk
1 year ago
By Putut M
Saya sangat terkesan dimana membelikan hadiah ulang tahun untuk anak ke 8 langsung ke jaknot pilih2 nggak pake lama ambil sayang leather casenya nggak ada.

-Layar sangat jernih, benar2 jernih sampai2 beberapa merek yang disebelah saya iri terhadap ketajaman dan kekuatan warnanya.
-3D game berat dapat dijalankan dengan mulus
-Wifinya nggak bisa jauh
-Chargernya buruk, kualitasnya nggak sebanding dengan tabnya sendiri.
-Akses ke market mantap sangat cepat
-Nyoba pasang modem external cdma kok nggak bisa ya? Any advise dari jaknot
Barang ajib harga ajib
1 year ago
By Yanuar Arief
mau kasi komentar mengenai produk ini, maaf telat, ane beli ainol novo 7 aurora 2 ini kira2x sebulan yll, ini adalah pembelian ane yg ke 4, sebelum2xnya masih yg aurora 1, so far barang sangat memuaskan, layar lebih terang dari g*lt*b 2, apalagi setelah di root dan dikasi custom ROM-nya,makin ajib nih barang, touch screen jd lebih smooth dan responsif, aplikasi yg ke-lock di play market bisa di install semua, kekurangan : sdcard internal sering error, switch hdmi tidak bisa dual monitor

untuk pelayanan jaknot, ***** lah, sore pesen, besok siang udah sampe nih barang, cepet banget, cuman sayang waktu itu mintanya warna hitam, datangnya warna putih cmiiw
Cara Sinkronisasi Google Calendar
1 year ago
By DJB Shop
Karena ada bug di Aurora II di sistem calendarnya, maka harus dinstal ulang apk google calendar agar bisa sinkronisasi.
caranya: instal apk ini http://www.mediafire.com/?fjv7gbsz5n6anqh
dan google calendar kembali normal. :)
Show More