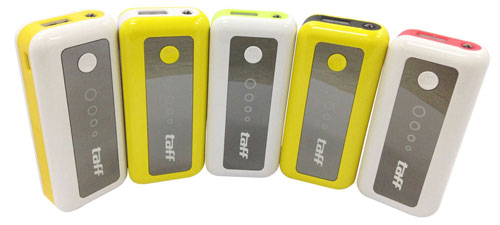 Features
The following are features of Taff Power Bank 5200 mAh MP5 for tablet and smartphone:
Built-in MCU
For Apple series
Imported original component
Standby in dormant time
With power display function
When charging, four blue lights flash in turn
Packed with Apple line, micro USB & normal mobile charging line

Content Include
1 Unit Taff Power Bank MP5
1 Unit Connector Cable
1 Unit Micro USB Plug Converter
1 Unit Mini USB Plug Converter
1 Unit Samsung Galaxy Plug Converter
1 Unit iPhone 30 Pin Converter
1 Unit Nokia Plug Converter
1 Manual Book

Lithium Cell Specs :
Taff Power Bank MP5 use 2 unit(s) Samsung Lithium Cell ICR18650-26F 2600mAh 3.7V . So that Taff Power Bank MP5 capacity is 5200mAh.

5200mAh Capacity which is owned by Taff Power Bank MP5 is quaranteed 100% REAL. Nowadays many Power banks write mAh capacity so great but actually it is not up to the capacity and sometimes found only reach half.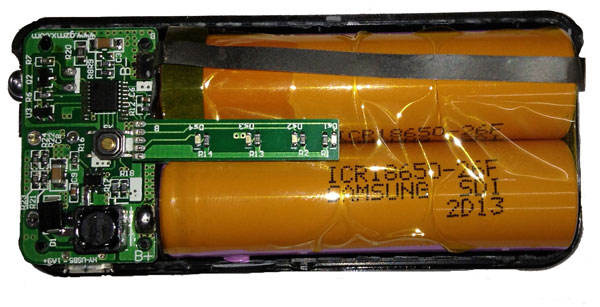 Item

:

Specification

Nominal Capacity

:

2600mAh (0.2C, 2.75V discharge)

Minimum Capacity

:

2500mAh(0.2C, 2.75V discharge)

Charging Voltage

:

4.2 ±0.05 V

Nominal Voltage

:

3.7V

Charging Method

:

CC-CV (constant voltage with limited current)

Charging Current

:

Standard charge: 1300mA

Rapid charge : 2600mA

Charging Time

:

Standard charge : 3hours

Rapid charge : 2.5hours

Max. Charge Current

:

2600mA(ambient temperature 25?)

Max. Discharge Current

:

5200mA(ambient temperature 25?)

Discharge Cut-off Voltage

:

2.75V

Cell Weight

:

48.0g max

Cell Dimension

:

Height : 65.00mm max

Diameter : 18.25mm max

Operating Temperature

:

Charge : 0 to 45

Discharge: -20 to 60
Tidak Termasuk Converter Nokia (mini) Plug