Informasi Produk :
SKU

SWWR01BK

Berat Pengiriman

0.3 kg

Garansi

1 Tahun

Pilihan Warna

Stok Sekarang

OnlineStok tersedia

Toko JakartaStok tersedia

Toko SemarangStok tersedia

Toko SurabayaStok tersedia
14 Days (LCD screen terdapat sedikit baretan, Specs dijamin tetap sama dan bergaransi.)
SUPER DISCOUNTS

Nikmati belanja murah ditambah diskon spesial

1-DAY SHIPPING

Pesanan anda langsung diproses sesaat setelah pembayaran lunas

TOP PRODUCTS

Semua barang kami terjamin mutu dan kualitasnya

LOWEST PRICE

Kami selalu memberikan harga terbaik tanpa mengurangi mutu
Simulasi Cicilan Kartu Kredit
Bank
Jangka Bulan
Bunga
Jumlah Cicilan
Minimum Transaksi

0.75%
12 x 36.325
Rp. 500.000,-
Eazy Pay - Citibank
0.99%
36 x 15.068
Rp. 1.000.000,-
Promo cicilan ini hanya berlaku untuk pembelian langsung ke Toko Pusat di Jakarta Mininum transaksi adalah jumlah total yang harus dibayar dalam 1(satu) invoice
Overview of Sierra Wireless AirCard 754S Mobile Hotspot - 4G LTE 100 Mbps
Experience 4G LTE speeds on all your Wi-Fi enabled devices. Sierra Mobile Hotspot Elevate 4G connects up to five Wi-Fi enabled devices to the Internet with speeds up to 10x faster than 3G. With no software to install and an LCD screen to guide you, setup is fast and intuitive. Just turn on the device and connect your laptop (or another Wi-Fi enabled device) over Wi-Fi.
Features
Stay agile

Experience 4G LTE speeds on all your Wi-Fi–enabled devices. AT&T Mobile Hotspot Elevate 4G connects up to five Wi-Fi–enabled devices to the Internet with 4G LTE speeds where available. Get more done with more speed than ever.

Collaborate on the go

Browse the Web and sync data at 4G LTE speeds on the AT&T network. Share your speed with your team by connecting up to five Wi-Fi–enabled devices to the Internet. Working on your own with a laptop, a tablet, an e-book reader or a wireless printer? Keep all of your devices connected by sharing the same mobile hotspot.

Connect fast

With no software to install and an LCD screen to guide you, setting up your AT&T mobile hotspot is fast and easy. Just power it up and connect your laptop – and other Wi-Fi–enabled devices – using the Wi-Fi network name and security key displayed on the LCD. Easily view device status on the LCD and manage settings with a Web user interface.

Cross borders

With AT&T Mobile Hotspot Elevate 4G, you can travel internationally and stay connected globally with data roaming in more than 200 countries** at international roaming rates.

Smooth access

Reach files stored on your microSD from all devices connected to your mobile hotspot over Wi-Fi. Collaborating with your colleagues on a project? Transfer files back and forth between devices connected through your hotspot.
* Terdapat sedikit baretan pada LCD unit, Karena gesekan pada permukaan box modem.
Photos of Sierra Wireless AirCard 754S Mobile Hotspot - 4G LTE 100 Mbps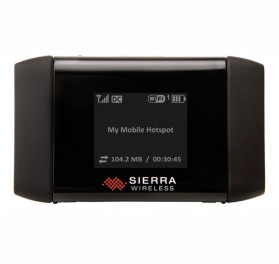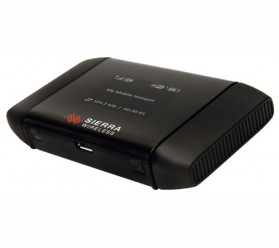 Technical Specifications of Sierra Wireless AirCard 754S Mobile Hotspot - 4G LTE 100 Mbps
Battery Capacity
1800 mAh lithium-ion
Use time (hours) Up to 5
General 3G Network
4G-LTE speeds : 4G speeds delivered by HSPA+ (with enhanced backhaul) or LTE (where available)
LTE : 700/AWS
3G : HSDPA, 850/1900/2100MHz
GSM/GPRS/EDGE : 850/900/1800/1900MHz
Software Support
Microsoft Windows 7, Vista, XP , Apple Mac OS (v10.5 or later), Ubuntu Linux 9.04
Dimension
3.8 x 2.2 x 0.7 inch
Others
Display size (inches) : 1.77
Resolution (pixels) : 160x128
Color LCD
JANGAN ME-FACTORY-RESET MIFI INI

by Rizky Anggriawan on Mar 1st 2015 13 / 13 people found this review helpful

Pertama kali hands on produk ini langsung saya ganti SSID dan key nya, begitu coba konek ternyata bisa konek dari tablet android saya ke mifi ini, tapi masalahnya si mifi gak mau connect ke internet. sy udah utak atik kok gak bisa ya. saya pikir ga bisa connect ke internet karena SSID sama key nya saya ganti, dengan bodohnya saya reset factory setting, hasilnya pas saya nyalain lagi di layar tertulis Simcard MEP Locked, arggggh bodohnya saya karena gak tau kalo factory reset bisa menyebabkan mifi kembali ke LOCK. setelah googling sana sini buat unlock ni mifi akhirnya nemu software sierra unlocker, tapi entah kenapaaa softwarenya gak mau jalan di windows 7 sayaa. coba googling lagi nemu software dc-unlocker, dan akhirnya pasrahin ngeluarin 10 euro cuma buat unlock lagi mifi ini via dc unlocker. FYI: dc unlocker adalah software peng-unlock modem biar bisa digunain segala sim card, dan untuk unlock modem pake software ini kita harus punya kredit yang mana kredit ini dijual dengan harga 1 euro per 1 kredit, contoh untuk unlock sierra 754s butuh 10 kredit jadi mesti beli dengan harga 10 euro, belinya cuma bisa pake akun paypal. sebenernya mungkin ada cara lain untuk re-unlock modem ini tanpa ngeluarin biaya, cuma kemarin saya panik dan akhirnya terpaksa ngeluarin 10 euro. setelah saya re-unlock baru engeh ternyata penyebab mifi gak mau connect ke internet itu gara-gara saya belum setting APN untuk simcard telkomsel. betapa bodohnya saya.

buat user baru mifi ini: JANGAN SEKALI-KALI ANDA MELAKUKAN FACTORY RESET MODEM ANDA KALO ANDA GAK MAU MODEM ANDA KE-LOCK. kalo misalnya mifi gak mau konek coba cek settingan APN udah bener apa belom.

baru sehari make modem ini ada lagi masalah, si modem gak mau dicas, udah pake segala macem charger tetep aja gak mau. indikator batere ada tanda seru, kapasitas gak naik-naik. baru bisa dicas kalo dalam keadaan mati. sebenernya modem ini bagus banget, gampang make nya, tapi mungkin karena barang gak resmi jadi kurang user friendly bagi yang awam. Ketahanan batere juga kurang, dipake 6 jam udah minta dicas, sama sih kayak modem sebelah punya bolt, boros batere dan gampang panas, tapi ini mungkin masalah kebanyakan modem mifi. solusinya: lepas batere, langsung pake power bank sebagai sumber daya. awas power bank nya jebol yaa.

mantab

by firliyansyah on Feb 26th 2015

Mantab ne kayak nya..!! Bisa buat bolt ga ne...??

sierrawireless

by Tafri Mukhtar on Feb 8th 2015 1 / 3 people found this review helpful

produknya mantap, pesan jumat malam hari minggu sampai.
sinyal 4G saya kira LTE ternyata HSPA+

Teliti sebelum beli

by Aditia Sugiharto on Feb 8th 2015 1 / 1 people found this review helpful

Overall performa lumayan bagus. Cuma Penting buat periksa frekuensi kerja mifi dengan frekuensi kerja provider yg akan digunakan, karena tidak semua provider menggunakan frekuensi kerja mifi ini example : bolt.
reset modem ----->>>> Modem lock to all operator
Keep be Smart buyer

Mantap JakNot

by Stephen Lenggano on Feb 3rd 2015 2 / 2 people found this review helpful

Barang udah sampai, layak juga kalau disebut zero configuration...
SSID dan wifi key tercantum di LCD ga usah ribet buka-buka box battery kalau-kalau lupa catat key-nya...
tinggal colok, konek... wuzz

btw ga ada baret-baret di layar koq

Pertamax

by dede purnama on Jan 30th 2015 0 / 1 people found this review helpful

mantap . barang nya sudah saya terima thanks jaknot .ternyata sierra wireless ini memang mantap , tancap saja dengan simcard internet GSM apa saja yang penting ada kuotanya nyalakan wifinya browsing oke lancar . bahkan saya mencoba mifi dalam status no internet access di taskbar tapi bisa koneksi bingung sendiri jadinya

OKE mantap !!!

by dede purnama on Jan 28th 2015

Model modemnya bagus, lapisan karet pada sisi kanan kiri dan belakang ada display nya . belom tes secara kinerja tapi model bagus lebih bagus dari modem xxxlt . perlu review lagi kalau sudah tes kinerja modem ini . terimakasih jaknot setelah menunggu beberapa hari akhirnya sampai juga nih modem dirumah ane lain kali tolong lebih baik dan always info kepada pelanggan .teng kyu teng kyu.

Memaksimalkan Jaringan 3G

by Rezawandi Perdana Akbar on Jan 28th 2015

Sierra Wireless AirCard 754S ini tidak mendukung jaringan operator 4G-LTE di Indonesia yg berjalan pada frekuensi 800 / 900 / 1800 / 2100 / 2300 GHz. Mudah2an kedepannya, pemerintah memindahkan 4G-LTE ke 700 GHz.

Untuk 3G benar2 memuaskan, saya memakai XL. Dengan lokasi yg sama, koneksi lebih cepat memakai modem ini daripada dipakai di hp..

Layarnya sangat mudah tergores, baterai cepet panas. Sebaiknya tidak mempairing modem serta dalam keadaan mati ketika mengisi baterai.

WOW

by ALDI NUGRAHA on Jan 5th 2015

ni produk mantap bro, tinggal masukin kartu langsung gas poll, ane pake kartu indosat jaringan mantap broo..

Keren

by Ahmad Harminto on Dec 25th 2014 2 / 2 people found this review helpful

Begitu liat mifi ini, langsung kepincut, pas barang dateng (dengan packaging rapih ala jaknot), langsung coba..
awalnya agak bingung.. akses settingnya beda sama router2 biasanya (by IP address) untuk speed dan stabilitas, josss... (tergantung provider juga :p)

yang butuh manual guide nya saya share :
https://www.dropbox.com/s/yccslcfzbxhuc0u/2400154_AirCard%20754S%20User%20Guide_r3.pdf?dl=0

Load more review..
Remind Me when Item is Ready