Everki EKP117NBKCT - Beacon Laptop Backpack with Gaming Console Sleeve - Black
Print
SKU

EVBG06BK

Berat Pengiriman

6 kg

Garansi

Lifetime(limited due to manufacture defect only)
Untuk pembelian dalam quantity banyak silahkan hubungi sales@jakartanotebook.com untuk mendapatkan diskon menarik.
SUPER DISCOUNTS

Nikmati belanja murah ditambah diskon spesial

1-DAY SHIPPING

Pesanan diproses sesaat setelah pembayaran lunas

TOP PRODUCTS

Semua barang kami terjamin mutu dan kualitasnya

LOWEST PRICE

Kami selalu memberikan harga terbaik tanpa mengurangi mutu
Overview of Everki EKP117NBKCT - Beacon Laptop Backpack with Gaming Console Sleeve
Rugged and stylish beacon laptop backpack
Rugged and stylish, the Beacon is designed for comfort even with heavy loads and harsh conditions. An ultra-soft, padded laptop compartment deftly protects and carries up to 18" laptops while still leaving enough room in the main compartment for a gaming console and accessories. Comfort and balance are maintained, even under heavy loads, thanks to the Beacon's 5-point balance strap system and aero-flow padded back and shoulder harness. Tas ini juga cocok dijadikan sebagai tas Gaming Backpack untuk membawa sejumlah peralatan gaming Anda, misalnya laptop gaming, headphone dan keyboard gaming, stik PS, hingga konsol PS4.

The spacious main storage compartment features a large zippered pocket, dividers, and an assortment of multifunction accessory slots. A clever buckle system allows the compartment to open halfway for quick access or a full 180 degrees for easy loading. Gamers will appreciate the inclusion of a dedicated sleeve for taking a gaming console (XBox 360, PS3, or Wii) on the road.

Dual hip pockets provide extra storage and quick access to important items like keys, mobile phone, or a media player without taking the bag off. A zippered outer pocket and a quick-stash slot provide additional easy-access storage

To keep your valuable contents protected in all weather conditions, the Beacon has an integrated stow-away water-resistant weather cover for use in sand, snow, rain, or dust.

As with all Everki products, the Beacon is backed by Everki's Limited Lifetime Warranty and world-class customer service.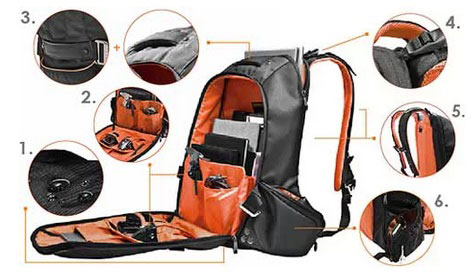 Features
Water-Resistant Weather Cover
Everki goes the extra mile to protect your valuables from the elements because there's no telling when you will find yourself stuck in inclement weather with expensive gear on your back. The Beacon's bottom pocket contains a water-resistant weather cover that stretches to neatly slip over the entire exposed surface of the bag and protect your documents and equipment against rain, snow, dust, or spilled drinks. The nylon covering easily detaches to allow for convenient cleaning and drying and can be quickly replaced when you are ready for your next adventure.
Spacious Storage Compartment with Removable Sleeve for Wii, Xbox 360, PS3
Everki created the Beacon with the serious gamer in mind. Its main front compartment opens to reveal a fully removable padded sleeve large enough to comfortably fit a Wii, Xbox 360, or PS3 gaming console. The sleeve fits neatly into its compartment with room left over for documents and a few accessories, and the bag features a clever buckle system that allows for partial or full 180 degree opening of the compartment for easy loading. Additional interior pockets facilitate tidy organization of items like cables, tools, camera, and mouse, and all of the Beacon's compartments are lined in a warm orange that contrasts stylishly against its black exterior.
Easy-Lift Dual Handles
Manage your burden with ease with the Beacon's dual handles, located at the top and the lower front side of the bag to allow you to conveniently get a grip on your gear and more easily maneuver it for packing and unpacking. These grips blend in seamlessly with the Beacon's sleek design and are each solidly constructed using sturdy materials to ensure that this bag remains a loyal traveling companion trip after trip, journey after journey.
5-Point Balance Strap System
Today's tech-savvy traveler needs a bag that can carry a lot of weight without adding to it. Everki's 5-Point Balance Strap System distributes weight load evenly across the torso to reduce muscle strain and keep you feeling light on your feet with every step you take while wearing the Beacon. Like most bags, the Beacon has two adjustable straps at the bottom. Everki adds to these two adjustable straps at the shoulders and one across the chest that give you more control over weight distribution and, ultimately, greater comfort.
Ergonomic Back Panel and Shoulder Straps
Carrying a laptop, gaming console, and accessories can wear a traveler out quickly. Luckily for the weary traveler, the Beacon is designed with pillow-soft shoulder straps and padded back panel that pitch in to help you shoulder the load when you have to carry your gear for long periods of time. Mesh padding and deep airflow channels also allow for maximum air circulation to keep you dry, cool, and comfortable, even while you are in constant motion. Everki presents the Beacon's padding and mesh in the same warm, orange tone that lines its interior.
Quick-Access Hip Pockets
The Beacon includes discrete hip pockets on each side that provide quick access to items like keys, flash drives, water bottle, mobile phone, and portable media player. Left side pocket features a convenient cable outlet that offers tangle-free management of headphone cables and both pockets are easily accessible without having to remove the bag from your back. Their placement conforms to the flow of the design and they come equipped with high-quality zippers with durable all-metal pulls.
Additional Features
Lifetime Warranty Protection

You can enjoy peace of mind knowing that with any product in the Everki family, you never have to worry about discovering a flaw or defect after the end of the warranty period. Everki's Limited Lifetime Warranty protects your purchase against manufacturing defects over the entire life of the product.

Optional Hidden Stash Compartment

The Beacon's weather cover compartment doubles as an extra pocket when the weather cover is removed. Its discrete location makes it unnoticeable and thus ideal for stashing money and/or other important documents while traveling.

Integrated Shoulder Strap and Headphone Cable Management System

Convenient mini straps on the front of the Beacon's shoulder straps provide a means to temporarily place items like sunglasses and headphones, and they work in harmony with the side pocket's cable outlet to route cables and prevent breakage due to tangling and other hazards of travel.

Dedicated Laptop Compartment

Your laptop is one of your most prized possessions, so it deserves its own compartment. This compartment fits up to 18" laptops and comes equipped with a soft, felt lining to protect your computer from scratches and other hazards of transport.

Additional Front Pockets

The Beacon's two additional outer pockets maximize space. One vertically zippered and one open pocket provide additional storage for items like portable electronics, keys, change, and writing utensils, and are well-positioned to provide easy access without interrupting the bag's visual appeal.

Ruggedized, Water-Resistant Bottom

The Beacon's underside is composed of a rugged, water-resistant material that is customized to resist weather and wear. It also provides an extra layer of padding to further guard against bumps and other potential dangers that compromise the safety of your valuables.
Everki Product Comparison
Untuk membandingkan produk-produk tas Everki Anda dapat melihatnya pada link berikut
Photos of Everki EKP117NBKCT - Beacon Laptop Backpack with Gaming Console Sleeve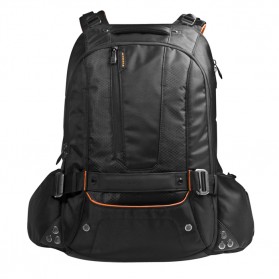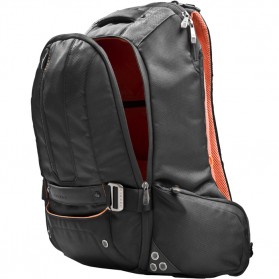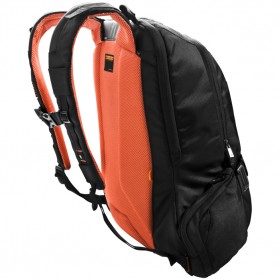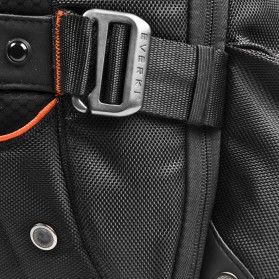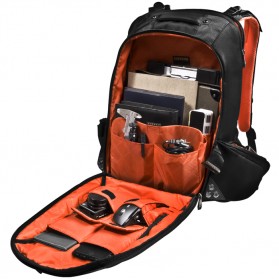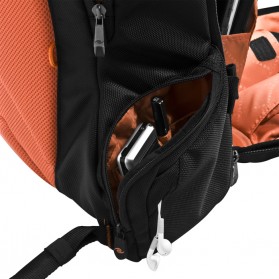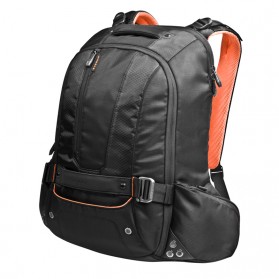 Video of Everki EKP117NBKCT - Beacon Laptop Backpack with Gaming Console Sleeve
Technical Specifications of Everki EKP117NBKCT - Beacon Laptop Backpack with Gaming Console Sleeve
| | |
| --- | --- |
| Fits Laptop Up To | 18 inch |
| Dimension | 43 x 16 x 53 cm |
| Weight | 3.53 lbs |
Kapan ada diskoon

by ERNOX on Dec 8th 2017

Adooh, ini benda naik lagi harganya.. Hmmm.., ksh lah harga diskon sperti duluu..

ketersediaan barang.

by Ansari Maulidil Awal on Nov 11th 2017

kapan ya kira2 barangnya available lagi?

Kapan ada stock lagi?

by Fadhly Radite Adryan on Jul 18th 2017

1 people found this review helpful

Dear Jaknot, apakah ada estimasi untuk ketersediaan barang?
terima kasih.

Barang ok

by I Gst Kt A Andri Kurniaditama on Apr 7th 2017

Over all barang ok banget, sy sdh pake setahun lebih, cuma sekarang zipper utamanya jebol. Gimana cara claim lifetime waranty nya gan. Mohon petunjuk, thx jaknot

barang bagus nih!!

by Yudhistira Sophianus on Jun 1st 2016

saya sudah pakai selama 1 tahun, beli dengan pick up di store jakarta, tas nya kuat banget!! diisi laptop dengan berat 5kg plus barang2 lainnya masih kuat selama 1 tahun, pernah jatuh dari motor sambil bawa tas ini dan tidak sobek!! membuktikan kualitas bahan yang sangat kuat! besinya pun anti karat!! puas banget dengan tas ini, thanks jaknote!!

Good Quality

by Roy Suzman on Jan 23rd 2015

1 people found this review helpful

Pemakaian sudah lebih dari setahun (pembelian Des 2013).
Kelebihan :
- Design nya bagus.
- Kualitas jahitan dan bahan OK, belum ada yang rusak.
- Dimensi yang besar, muat untuk banyak sekali barang.

Kekurangan :
- Bahan tidak tahan air.
- Kualitas rain coat tidak bagus. (jahitan sudah rusak dan bagian perekat ke tas sudah sobek) Dan sekarang rain coat sudah tidak bisa lagi menahan air.

Sekian dan terima kasih.

thanks jaknot barang dah nyampe

by yohanes ari on Feb 17th 2014

material 8.5
design 9
pengerjaan 9
fungsi 8.5
harga 8.5(beli wkt msh 700rb)

semoga membantu bg yg mo beli tas ini d jaknot

Gak Rugi

by ali soewarno on Feb 6th 2014

2 people found this review helpful

Tidak terasa udah 1 tahun lebih make tas ini, so these are my reviews:
Pro:
- Kuat banget, bahannya bermutu, jahitan luar dalam belum ada yang lepas biar 1 benang pun,
- Modelnya keren, simple, gak kayak backpack2 kebanyakan. Cocok buat pekerja kantoran.
- Ada kantung/sleeve tambahan/extra di dalamnya, untuk berpergian bisa saya isi pakaian, ntar sampai hotel kantung tsb bisa ditinggal di kamar, backpack nya bisa tetap dibawa2.
- ada raincoat nya
- resleting nya benar2 kuat, diisi barang belanjaan sampai penuh pun masih lancar jaya.
- muat banyak,: laptop 15.6", adaptor, mouse, tempat pensil 2 biji, botol minum (penting), buku, dll

Cons:
- Bagusnya kalau ada kompartemen di bagian atas, biar distribusi bebannya lebih oke.

Mantap

by Ardigautama Agusta on Dec 21st 2013

Tas ini cocok untuk jalan2 ataupun untuk kegiatan sehari2 yang membutuhkan lapto ukuran 15" keatas.

makasih jaknot. .

Paling Span neh Beacon

by Raymond de Winter on Nov 28th 2013

sangat co2k buat para gamers,atw semua yg suka banyak bawa keperluan entah itu gadget, pakaian juga boleh :D
pokoknya Span betul neh Everki Beacon
Load more review..
Remind Me when Item is Ready
1
Pengunjung sedang melihat Produk ini