Everki EKP119 Flight Checkpoint Friendly Backpack, fits up to 16-inch - Black
Print
SKU

EVBG0CBK

Berat Pengiriman

4 kg

Garansi

No Warranty(limited due to manufacture defect only)

Pilihan Warna

Stok Sekarang
Untuk pembelian dalam quantity banyak silahkan hubungi sales@jakartanotebook.com untuk mendapatkan diskon menarik.
SUPER DISCOUNTS

Nikmati belanja murah ditambah diskon spesial

1-DAY SHIPPING

Pesanan diproses sesaat setelah pembayaran lunas

TOP PRODUCTS

Semua barang kami terjamin mutu dan kualitasnya

LOWEST PRICE

Kami selalu memberikan harga terbaik tanpa mengurangi mutu
Overview of Everki EKP119 Flight Checkpoint Friendly Backpack, fits up to 16-inch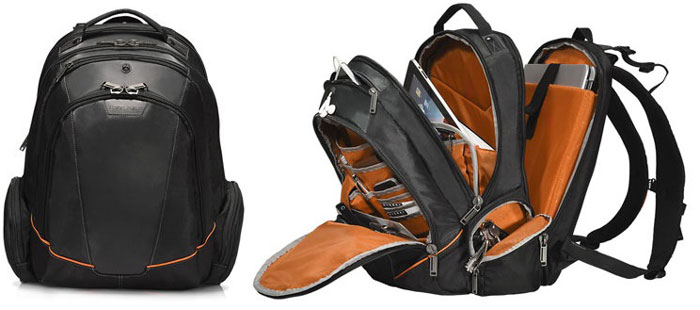 The Flight is the perfect backpack for anyone on the go. The backpack easily fits up to a 16" laptop in its ultra-soft padded and felt lined rear compartment that folds 180º open for easy access. This also allows you to pass by airport check points without taking out your laptop! Even with a full load, the Flight keeps your back and shoulders comfortable with its deep airflow channels. Balance is also maintained, thanks to the Flight's 5-point balance strap system with a fully adjustable chest strap.

The spacious main storage compartment features large zippered pockets, dividers for keeping your documents or peripherals separated and a soft, fine-felt lined pocket that is ideal for your iPad, Kindle or other similar tablet safe and sound. The front compartment has plenty of slots for you to store your business cards, two pens, and any other important documents or electronic components.

The Flight also has a zippered, top stowaway pocket lined with soft, scratch free cloth for your music player. The stowaway pocket has a dedicated opening for your headphones to reach your player that prevents dust or rain from sneaking in. There are also two convenient side pockets that provide you with even more places to store items such as a phone charger or a compact digital camera. One of the side compartment pocket also has an dedicated adjustable loop to hold a water bottle in place while on the move.

As with all Everki products, the Flight is backed by Everki's Limited Lifetime Warranty and world-class customer service.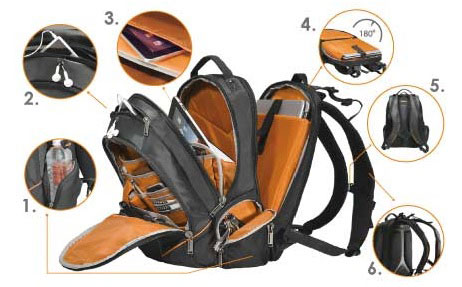 Features
Multi-Functional Easy Access Side Pockets
Side pockets can present a burden and take away from a bag's aesthetic when designed incorrectly. The Flight was constructed with this in mind, with discrete side compartments that maintain the flow of its design, equipped with a range of slots designed to accommodate a number of everyday items like keys, flash drives, writing utensils, and compact portable electronic devices. These pockets are equipped with the same high-quality zippers and metal zipper pulls that secure the rest of the bag.
Headphone/Audio Cable Outlet
Who doesn't appreciate the convenience of portable music players, cellular phones, and other audio devices? The Flight features a dedicated audio device compartment, complete with a cable outlet that provides quick and easy, tangle-free access to headphones and other loose cables. The outlet sits near shoulder level when the bag is carried on your back, significantly reducing cable slack and holding cables clear of arms, handle bars, and other hazards. Don't let wires get in the way. Let the Flight help you make the rat's nest a thing of the past.
iPad/Tablet Pocket
With a dedicated slot designed to hold your iPad and other tablet PC's, never again will you leave your device vulnerable to the ravages of an ill-fitting compartment. The rising popularity of tablets and their increasing importance in school and industry make this feature a must when purchasing a new laptop bag. This unique pocket is lined with the same soft felt that is found in the laptop compartment, so you can rest assured that your iPad or tablet PC will be just as well protected as your computer, and like all of the Flight's pockets and compartments, it is easily accessible.
Checkpoint Friendly
It is no myth that airport security checkpoints impose more and more rules and restrictions all the time. Breeze through security with the Flight's Checkpoint Friendly laptop compartment. Simply open the compartment 180 degrees, lay it flat on the conveyor, and watch your laptop go through the x-ray machine without the mess and inconvenience of removing it, and should you for any reason be required to take it out of its slot, you can do so easily, without rearranging the rest of the bag's contents. Fast, simple, and effective.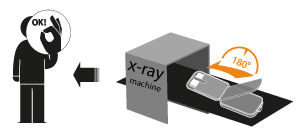 5-Point Balance Strap System
Today's tech-savvy traveler needs a bag that can carry a lot of weight without adding to it. The 5-Point Balance Strap System distributes weight load evenly across the torso to reduce muscle strain and keep you feeling light on your feet with every step you take while wearing the Everki Flight. Like most bags, the Flight has two adjustable straps at the bottom. Everki adds to this two adjustable straps at the shoulders and one across the chest that give you more control over weight distribution and, ultimately, greater comfort.
Ergonomic Back Panel and Shoulder Straps
Carrying a laptop and all of its accessories can wear a person out pretty quickly. Luckily for the weary traveler, the Flight is designed with pillow-soft shoulder straps and padded back panel that pitch in to help you shoulder the load when you have to carry your gear for long periods of time. Mesh padding and deep airflow channels also allow for maximum air circulation to keep you dry, cool, and comfortable, even while you are in constant motion.
Additional Features
Lifetime Warranty Protection

You can enjoy peace of mind knowing that with any product in the Everki family, you never have to worry about discovering a flaw or defect after the end of the warranty period. Everki's Limited Lifetime Warranty protects your purchase against manufacturing defects over the entire life of the product.

See-It-All Pockets

Organizing your belongings can demand more attention than it deserves. That is why Everki outfitted some of the Flight's many pockets with a see-through mesh covering that makes finding and accessing everyday items like keys and small objects a cinch, even when the bag is stuffed full.

Dedicated Laptop Compartment

Your laptop is one of your most prized possessions, so it deserves its own compartment. This compartment is equipped with a felt-lined pocket with ample padding to best protect your laptop from bumps and scratches, and further secured with lock-holes on the compartment's zipper pulls.

Large Zippers and Metal Zipper Pulls

The Flight's size 10 zippers are larger and more durable than the hardware found on most other bags in its class. Its strong, all-metal Everki zipper pulls are built to last and the laptop compartment features pulls with lock-holes to help you protect your valuables while you are on-the-go.

Multi-Functional Mini Straps

Convenient mini straps on the front of the Flight's shoulder straps allow you to temporarily store and retrieve items like sunglasses and ear buds quickly and easily when you are at the cash register or making your way through check-in at the airport, making for a smooth transaction without added hassle.

Water Bottle Loop

The serious traveler works up a thirst and doesn't want to have to hold on to a water bottle or fumble around for it in an overstuffed compartment. The Everki Flight comes equipped with a unique loop strap in one of its side pockets that securely holds a bottle in place. Need a drink? Problem solved.
Everki Product Comparison
Untuk membandingkan produk-produk tas Everki Anda dapat melihatnya pada link berikut
Photos of Everki EKP119 Flight Checkpoint Friendly Backpack, fits up to 16-inch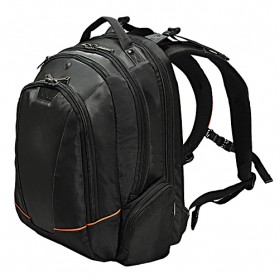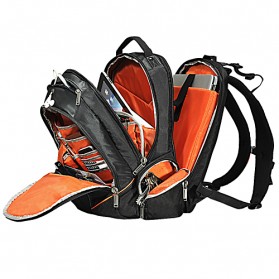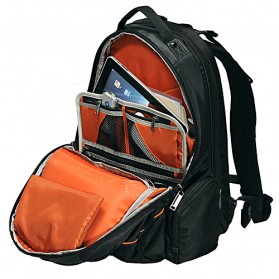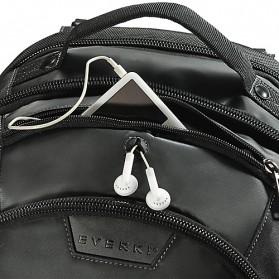 Video of Everki EKP119 Flight Checkpoint Friendly Backpack, fits up to 16-inch
Technical Specifications of Everki EKP119 Flight Checkpoint Friendly Backpack, fits up to 16-inch
| | |
| --- | --- |
| Fits Laptop Up To | 16 inch |
| Dimension | 33 x 24 x 45 cm |
| Weight | 3.2 lbs |
Nice

by Bagus Tri indrajaya on Nov 16th 2019

Kualitas di atas harga, cocok untuk short traveling ataupun daily backpack

Mantabb & berkualitas

by zulkarnain on Nov 10th 2018

Sangat berkualitas, harga murah dibanding kualitas tas..zipper material premium..pengiriman sesuai jadual..sangat puas berbelanja di jaknot..???????? Terima kasih

Luar biasa

by Mgs M Rizqi Al Fadli on Oct 25th 2018

Tas everki dr jaknot yg kedua saya miliki. Sebelumnya beli yg atlas 5 tahun lalu yg sampai skr masih oke. Review ny ttp sama !! Luar biasa

Zipprr kuat, konpartemen banyak, warna dalamnya cerah jd gampang cari barang, jahitan kuat, barang banyak terasa ringan krn selempang punggung yg sangat nyaman, tempat laptop dan tablet ada beludru dan tebal jd aman dr goncangan, pokoknya samgat luar biasa. Harganya mutah d banding tas lain. Menurut saya yg jual ini bakal rugi. Harga murah kualitas jutaan rupiah

Dipakenya enak

by febry on Mar 29th 2018

Enak dipakainya, menopang di bagian atas punggung, jadi ujung bawahnya gak kena pantat (padahal saya termasuk pendek, hehe). Value for money, karena kayaknya paling murah diantara saudara2nya yang lain. Speknya benar maksimal laptop 16", saya coba masukin laptop 17" gak bisa (kurang panjang sedikiiiit). Kantongnya buanyak, asik buat organisir pernak-pernik elektronik. Trims jaknot.

Tas Elegan

by M Arli Rusandi on Sep 13th 2017

Mantab si.. cocok buat laptop 15.6 inchi. Kantong nya banyak.
Kantong buat laptop nya memiliki busa yg tebal, sehingga laptop aman dr guncangan. Zipper nya juga enak. Lembut banget pas ngebukanya. Bahkan ada video tutorial nya juga, jd bisa mengetahui untuk apa saja kantong2 sebanyak itu.

Senang nya berbelanja d Jakartanotebook ini, bisa pickup barang d tempat, jadi bisa ngecek2 dulu barang, walaupun sebenarnya saya hampir 10 kali lebih berbelanja d sana. Tidak pernah ada barang yg cacat.

It's a Good Bag

by Junaidi Haji Sura on Aug 23rd 2017

Salah satu alasan knp beli tas ini adalah, Garansi seumur hidup, setelah datang ke toko memang jaminan garansi tsbt valid dan hanya dijual distributor resmi yaitu jaknot. Untuk kapasitas isi tas gede bgt dan bawa laptop ukuran 14' terasa enteng.

Recommended Quality laptop backpack

by Agung Satrio on Jun 28th 2016

Ruang penyimpanan banyak, ada ruang khusus buat tablet
Khusus ruang laptop dan tablet dilapisi beludru dan busa.
Ruang penyimpanan botol minum yang unik
Kapasitas banyak untuk ukuran tas yang sedang.
Kualitas premium - detail sangat rapih dan terlihat tahan lama
Nyaman dipakai / ergonomis , walaupun diisii beban penuh
Sangat praktis buat yg sering melewati x ray scan bandara,
karena tidak perlu mengeluarkan laptop dari tas.

Plus : Quality, Banyak ruang, ergonomic, harga (diskon)
Minus : tidak ada key holder, rain cover optional

Overall : recommended !! Udah compare secara online - Jaknot termasuk paling murah (diskon), buruan beli keburu kehabisan.



Good Bag

by Ade Permana 081287767780/085656231123 on May 27th 2016

Udah lama pengen punya tas ini, tapi bersabar nunggu harganya turun. Kebetulan waktu itu diskon dan ane langsung order tas ini. Laptop ane ukuran 15,6" masuk dengan pas di tas ini. Selain itu, tas ini jg banyak ruang penyimpanannya, jadi barang2 tersimpan lebih rapi & teratur. Pesen di hari Minggu dengan permintaan diantar via kurir, tas diantar hari Senin sorenya. Tasnya oke, bahannya bagus, enak dipakai. Tidak mengecewakan. Semoga awet. Thanks JakNot

Good Bag

by Ade Permana 081287767780/085656231123 on May 27th 2016

Udah lama pengen punya tas ini karena nyari tas laptop yang muat utk 15,6" dengan banyak kompartemennya agak susah, terlebih lagi dengan kualitas yang oke. Akhirnya pas harga tas ini diskon, langsung order di hari Minggu dengan minta diantar via kurir. Senin sore barang sudah sampai di tangan. Kualitas barang oke, tidak mengecewakan, enak juga dipakainya. Semoga awet. Thanks JakNot

Everki EKP119 buat bawa kamera dan lensa

by nasser djawas on May 22nd 2016

kadang kadang saya bawa kamera dan lensa juga.
coba coba k tas ini. ternyata lumayan melindungi lensa dan kamera saya (mirrorless yah bukan DSLR)

recommended deh buat yang bawa kamera kecil dan Laptop,
Bahu gak sakit meski travel lama..
Load more review..
Remind Me when Item is Ready