Everki EKP120 Titan Laptop Backpack, fits up to 18.4-inch - Black
Print
SKU

EVBG07BK

Berat Pengiriman

6 kg

Garansi

Lifetime(limited due to manufacture defect only)

Pilihan Warna

Stok Sekarang
Untuk pembelian dalam quantity banyak silahkan hubungi sales@jakartanotebook.com untuk mendapatkan diskon menarik.
RMA barang hanya bagian yang rusak saja bukan seluruh paket tas.
SUPER DISCOUNTS

Nikmati belanja murah ditambah diskon spesial

1-DAY SHIPPING

Pesanan diproses sesaat setelah pembayaran lunas

TOP PRODUCTS

Semua barang kami terjamin mutu dan kualitasnya

LOWEST PRICE

Kami selalu memberikan harga terbaik tanpa mengurangi mutu
Overview of Everki EKP120 Titan Laptop Backpack, fits up to 18.4-inch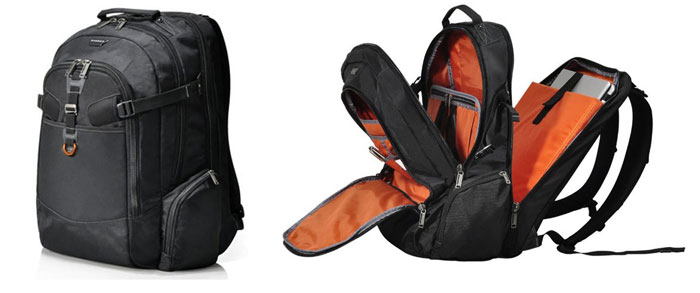 If you are looking for a bag big enough to fit a full-sized laptop along with everything else you'll need on your journeys, look no further than the Everki Titan. The Titan is the behemoth of laptop bags, designed with a ton of unique features and accents that set it apart from the crowd. Everki constructed this bag using high-quality materials that offer your expensive equipment ample protection without sacrificing visual appeal and a surplus of useful pockets leave the Titan well-suited to satisfy even the most organized traveler. Tas ini juga cocok dijadikan sebagai tas Gaming Backpack untuk membawa sejumlah peralatan gaming Anda, misalnya laptop gaming, headphone dan keyboard gaming, stik PS, hingga konsol PS4.

The Titan stores laptops up to 18.4" in a softly padded and felt-lined compartment that opens a full 180 degrees for easy access and allows you to breeze through airport security checkpoints without having to remove your device. Even with a full load, the Titan keeps your back and shoulders comfortable with soft padding and deep airflow channels that work to improve circulation, and the bag helps to maintain balance with its 5-point balance strap system and fully adjustable chest strap.

In addition to its laptop compartment, the Titan features a spacious main storage area with large, zippered pockets, dividers to separate peripherals from files and documents, and a soft, felt-lined pocket appropriately sized for your iPad, Kindle, or other Tablet PC. Another compartment at the front of the bag offers the Titan's proud owner plenty of slots to store business cards, writing utensils, or any other necessary gadgets or accessories, as well as a pocket to stash the Titan's included weather cover. Users of the Titan will enjoy the convenience of an additional small stowaway pocket, built into its durable nylon exterior that blends in with the bag's sleek design. Everki outfitted this pocket with a soft, scratch-free lining to help you keep your portable media player or mobile phone safe and sound. A cable outlet lets you set your desired length of cord to reduce slack and eliminate the threats of tangling and breakage, and works double-duty to prevent dust or rain from sneaking in.

To top it all off, the Titan comes with a removable accessories pouch to aid organization, as well as a water-resistant weather cover to protect your gear from the elements. Keeping your valuables safe is a full-time job, and Everki goes the extra mile to protect its products and their owners with the company's Limited Lifetime Warranty and world-class customer service.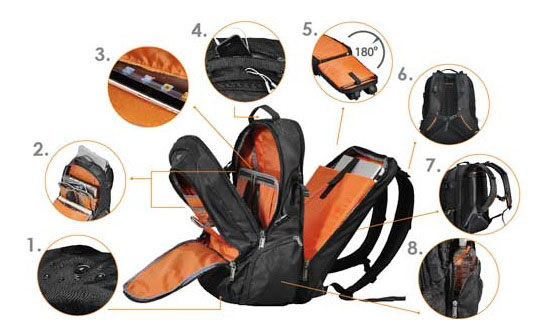 Features
Water-Resistant Weather Cover
Everki goes the extra mile to protect your valuables from the elements because there's no telling when you will find yourself stuck in inclement weather with expensive gear on your back. The Titan includes a water-resistant weather cover that stretches to neatly slip over the entire exposed surface of the bag and protect your documents and equipment against rain, snow, dust, or spilled drinks. This nylon covering easily folds up in order to save space and can be quickly removed and dried after use so that you can pack it back in the bag and move on to your next adventure.
Spacious, Well-Organized Compartments
The Titan is the behemoth of laptop bags. In addition to its laptop compartment, Everki outfitted the Titan with two additional compartments that maximize space while they ensure optimal organization. Main compartment features large zippered pockets, iPad/Tablet slot, and dividers to separate your documents or peripherals from other accessories. Even while fully loaded, this compartment leaves enough space for the Titan's included accessories pouch. A slightly smaller adjacent compartment contains slots of varying sizes as well as see-it-all pockets that make organization a cinch.
Felt-Lined iPad/Kindle/Tablet Pocket
With dedicated pockets designed to hold your iPad, Kindle, or other Tablet PC, never again will you leave your devices vulnerable to the ravages of an ill-fitting compartment. The rising popularity of tablets and their increasing importance in school and industry make this feature a must when purchasing a new laptop bag. This unique pocket is lined with the same soft felt that is found in the laptop compartment, so you can rest assured that your device will be just as well protected as your computer, and like all of the Titan's pockets and compartments, it is easily accessible.
Zippered Media Player Compartment and Headphone/Audio Cable Outlet
Who doesn't appreciate the convenience of portable music players and cellular phones? The Titan features a separate zippered and cloth-lined audio device compartment complete with a cable outlet that provides quick and easy, tangle-free access to headphones and other loose cables and prevents dust or rain from sneaking in. The outlet sits near shoulder level, significantly reducing cable slack and holding cables clear of arms, handle bars, and other hazards. Don't let wires get in the way. Let the Everki Titan help you make the rat's nest a thing of the past.
Checkpoint Friendly 18.4" Laptop Compartment
It is no myth that airport security checkpoints impose more and more rules and restrictions all the time. Breeze through security with the Titan's Checkpoint Friendly laptop compartment. This ultra-soft padded and felt-lined compartment is designed to fit devices up to 18.4". Simply open 180 degrees, lay it flat on the conveyor, and watch your laptop go through the x-ray machine without the mess and inconvenience of removing it - and should you for any reason be required to take it out of its slot, you can do so easily, without rearranging the rest of the bag's contents. Fast, simple, and effective.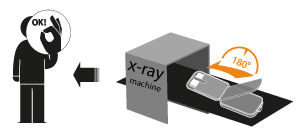 5-Point Balance Strap System
Today's tech-savvy traveler needs a bag that can carry a lot of weight without adding to it. The 5-Point Balance Strap System distributes weight load evenly across the torso to reduce muscle strain and keep you feeling light on your feet with every step you take while wearing the Titan. Like most bags, the Titan has two adjustable straps at the bottom. Everki adds to this two adjustable straps at the shoulders and one across the chest that give you more control over weight distribution and, ultimately, greater comfort.
Ergonomic Back Panel and Shoulder Straps
Carrying a laptop and all of its accessories can wear a person out pretty quickly. Luckily for the weary traveler, the Titan is designed with pillow-soft shoulder straps and a padded back panel that pitch in to help you shoulder the load when you have to carry your gear for long periods of time. Additional mesh padding and deep airflow channels go even further and provide maximum air circulation to keep you dry, cool, and comfortable, even while you are in constant motion.
Multi-Functional Easy Access Side Pockets
Side pockets can present a burden and take away from a bag's aesthetic when designed incorrectly. The Titan was constructed with this in mind, with discrete side compartments that maintain the flow of its design. One pocket comes outfitted with a range of slots designed to accommodate a number of everyday items, while the other features a convenient water bottle strap that secures your drink near waist-level where it is easy to reach. These pockets are equipped with the same high-quality zippers that secure the rest of the bag to ensure that even your smallest items remain well protected.
Additional Features
Lifetime Warranty Protection

You can enjoy peace of mind knowing that with any product in the Everki family, you never have to worry about discovering a flaw or defect after the end of the warranty period. Everki's Limited Lifetime Warranty protects your purchase against manufacturing defects over the entire life of the product.

Accessories Pouch

With a bag this spacious, organization is essential. The Titan's included accessories pouch comes in handy when you need to keep your laptop power brick, various cables or any other small items organized separately from the rest of your documents, books, and equipment.

Front Elastic Quick-Stash Pocket

As if you needed more space, The Titan sports a discrete and convenient front elastic quick-stash pocket, perfect for mints, mobile phone, plane ticket, or any other small items you may want to quickly store and retrieve. A designer buckle and strap system helps secure the pocket's content.

Multi-Function Mini-Straps

Convenient mini-straps on the front of the Titan's shoulder straps allow you to temporarily store and retrieve items like sunglasses and ear buds quickly and easily when you are at the cash register or on your way through check-in at the airport, making for a smooth transaction without added hassle.

Front Straps with Speed-Release Buckles

Front buckles and straps provide additional support when the Titan is fully loaded. Simply load up the backpack, loosen or tighten the straps to the appropriate lengths and then snap them into place using discrete easy-clip buckles to firmly secure the bag's contents.

Large Zippers and Metal Zipper Pulls

The Titan's size 10 zippers are larger and more durable than the hardware found on most other bags in its class. Its strong, all-metal Everki zipper pulls are built to last and the laptop compartment features pulls with lock-holes to help you protect your valuables while you are on-the-go.
Everki Product Comparison
Untuk membandingkan produk-produk tas Everki Anda dapat melihatnya pada link berikut
Photos of Everki EKP120 Titan Laptop Backpack, fits up to 18.4-inch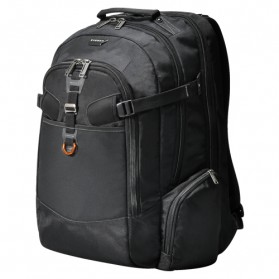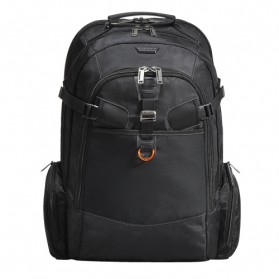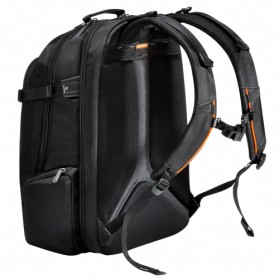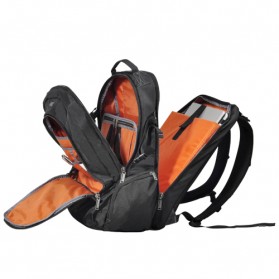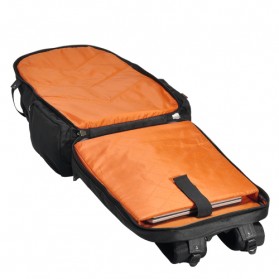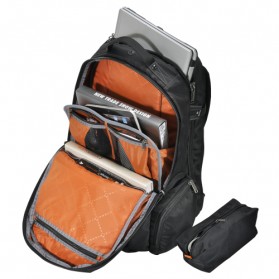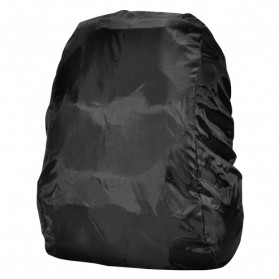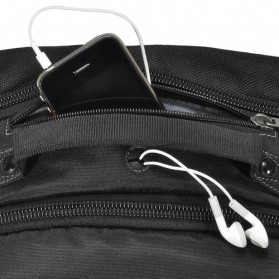 Video of Everki EKP120 Titan Laptop Backpack, fits up to 18.4-inch
Technical Specifications of Everki EKP120 Titan Laptop Backpack, fits up to 18.4-inch
| | |
| --- | --- |
| Fits Laptop Up To | 18.4 inch |
| Dimension | 38 x 21 x 54 cm |
| Weight | 4.42 lbs |
PUAS

by Jefri Sitopu on Feb 12th 2018

RUANG PENYIMPANAN BANYAK
MATERIAL BAGUS
SEMOGA AWET

Superb Bag

by Daniel Anthony on Aug 9th 2017

1 people found this review helpful

Superb Backpack for my gigantic Asus ROG 17.3" Laptop !!!
Great quality, lots of pockets, nice straps, appriciate the easy access to laptop compartment and the pouch as the rain cover comes in handy when you are a photographer like me also..

PERFECT !!!
Thx to Jakartanotebook.com for supplying this backpack with good price !

rain cover tersembunyi di dlm tas

by Fredy on Jul 25th 2016

Bagi yang bingung saat pertama kali mencari rain cover seperti saya. Rain cover ada di deret kedua di kompartmen bawah tas titan. Petugas jakarta notebook jg awalnya bingung nyari rain covernya. Sempat akan refund minta kembali tp akhirnya ketemu nyelip di bagian itu.

Tasnya muat banyak. Cocokuntuk kerja.????????

Tasnya segede gaban

by Firman Sahita on Mar 16th 2016

1 people found this review helpful

Meskipun ane gak pake laptop gaming dari asus yang segede gaban (pakenya yang 14 inch), tapi ane puas kok :D
Harganya sih kemahalan untuk yang namanya Tas.. tapi pas nerima dan unbox Tasnya bagus kok, Sebanding dengan Harganya :)

Pros (Kelebihan):
1. Tasnya gede banget, bisa masukin apa aja dan lebih terorganisir karena dengan poket / kantong dalam tas yang jumlahnya banyak (malahan kebanyakan sampai bingung mau masukin ke kantong mana hehe).

2. Kantong bagian laptop lebih protektif karena busa yang tebal dibandingkan tas umum yang ada di pasaran dan juga di Kantongnya itu ada semacam kain berbulu gitu (bagian belakang saja), kemungkinan kain tersebut digunakan untuk Anti-Scratch alias anti gores (laptopnya gak bakal tergores / tergesek dengan kain).

3. Dari tampilannya aja keliatan kalau jahitannya over-protektif, kemungkinan besar menurut ane ni Tas bisa tahan bawa beban full-load (penuh) sampai 1 tahun lebih untuk penggunaan sehari-hari (termasuk hari libur).

4. dari segi style mungkin bagi orang yang Badannya Tinggi Besar contoh Tinggi badan di atas 180 cm mungkin bagus tapi kalau yang dibawah 180 cm kayak ane berasa norak karena tasnya gede banget (atau memang badan ane terlalu kurus? hehe). Kayak mau piknik

5. Benar-benar 5-Point balance system.. dua atas, dua bawah, dan satu tengah membuat Tas Berat menjadi *Ringan

Cons (Kekurangan):
1. Rain Covernya gak muat kalau lagi full-load (penuh).. dan Atas Rain Cover seharusnya ada semacam gantungan yang berfungsi agar Rain Cover tidak licin ke bawah dan Bagian Atas tas masih tetap terjaga.

2. Handle Tasnya tipis gan (ada busanya tapi tipis).. bayangin aja Tas Segede Gaban yang lagi penuh, trus di jinjing tangan.. pasti jari tangannya kesakitan

3. Kalau ngambil air botol disamping sambil tasnya dipake susah gan.. terlalu jauh dan itu juga tali botolnya cuma ada satu di bagian kanan dari depan tas.

4. Sayangnya resleting yang bisa pake gembok cuma satu (bagian laptop saja), harapan ane sih semuanya ada lobang untuk pasang gembok di resletingnya jadi kalau lagi Traveling luar kota gak perlu khawatir Kehilangan Gadget / Smartphone di dalam Tas yang jelas-jelas iklannya menunjukkan bahwa Tas ini diperuntukan untuk menyimpan banyak sekali Gadget yang tidak bisa dibilang murah..

5. Jahitan sebagian poket / kantong ada yang berasa dikerjakan setengah hati gan (maksudnya jahitan terlihat tidak kuat menahan beban 'paksaan').

Great product

by JOHANES FERNANDO on Feb 4th 2016

Beli ini buat gantiin tas laptop bawaan msi ge62 2qf.
Tasnya besar muat semua tuh ama hardcase laptop transformer razer.
Bahannya bagus. Jahitan kuat. Raincover bagus, ga tembus air.
Mantep dah. Csnya jaknot juga reapon cepet.
Good job.

stock lagi donk untuk di jakarta :D

by Benny Susanto on Nov 8th 2015

stock lagi donk untuk jakarta :D

cocok untuk laptop gamming.

by Deny Arifianto on Jul 5th 2015

Pada awalnya saya ragu untuk membeli, salah satu faktor adalah harga. Namun setelah memakainnya, keraguan itu sirna. Tas ini luarbiasa nyamannya.
Muat untuk laptop rog g751 yang segede gaban + dell inspiron 14 + 2 charger + mouse +segala aksesoriesnya.
Ada banyak sekali tempat penyimpanan yang pasti akan berguna.
Laptop compartemennya sangan lembut, beda dengan tas laptop lainnya.
Untuk masalah hujan belum dites, karena belum musim hujan.

Intinya: ada harga ada kualitas
Thanks jaknot.

Setelah dipakai ujan2an

by Anggorodi on Nov 28th 2014

Mau review lagi aah :D

setelah ane pakai tas ini buat ujan2an:

1. kalo rain covernya ga dipasang, air hujan rembes ke dalem tas, hampir semua bagian dalem tas basah dan lembab. barang2 ane didalam basah bahkan ada bagian laptop saya ikut basah, untung ga kenapa2 laptopnya. (waktu itu hujan lg badai, ane lumayan lama keujanan dan ane lupa bawa raincovernya)

2. kalo rain covernya dipasang, air hujan tetep tembus, cuma bagian tas yg basah hanya bagian kantong resleting bagian depan sampai tembus kedalam dan bagian bawah tas tembus ke dalam. entah kenapa bagian bawah tas malah basah. (hujan ga gede tp ane lumayan lama berdiri dibawah hujan, bis ga lewat2 gan:( )

jadi kalo lg hujan dan ente lg bawa gadget, mending gadegtnya dilapisin lg deh, beli cover/case/sleeve atau sejenisnya biar gadget ente ga bugil didlm tas.

tp diluar itu semua tas ini bagus kok. :)

WAA GEDE BANGETT!!

by Anggorodi on Nov 11th 2014

Pesen barang ini via COD tgl 3 nov, besoknya barang langsung diterima

Kesan pertama liat tas ini.. WAA GEDE BANGEETTT!! :D tapi pas dipake ga keliatan gede banget sih, kecuali mungkin buat yang postur tubuhnya dibawah 170cm baru keliatan kegedean.
Material tasnya bagus, berasa banget kalo dipegang bukan material murahan, segala macem barang bisa masuk, kantongnya banyak banget, kadang sampe lupa naro dimana barangnya saking banyaknya kantong. Buat yang suka dinas luar kantor cocok bgt ni barang, buku2, laptop, gadget, charger, powerbank, hd external, kabel2, baju, jaket masuk semua.

cuma kecewanya tali strap yang ada di dada ilang sebelah, krn ga terlalu kepake buat saya, pas mau make baru nyadar ilang sebelah. sayang banget. :(

kekurangannya, rain covernya ga nutup sampe atas bgt, jd bagian atas masih sdikit basah. masalahnya adalah bagian yg basah itu di kantong bagian laptop di sekitar resletingnya. ngeri aja sih ada air yg masuk langsung kena laptop kalo pas kebetulan resletingnya ga rapet nutupnya. mungkin krn tasnya ga terlalu penuh jadi rain covernya ga sadar suka turun sedikit.

overall puas sama barangnya, ada harga ada rupa. yaa namanya buatan manusia, pasti ada kekurangannya. mudah2 awet. krn beli ini buat jaka panjang.

pembelian ke 4 di jaknote ga pernah ada masalah. thanks jaknote! :)

Behemoth Bag

by Rony Baskoro Lukito on Nov 8th 2014

Tas yang besar & kuat, sangat membantu untuk membawa banyak barang.

Pengalaman terakhir Titan cukup untuk membawa: Laptop 14"+charger, powerbank, mouse, buku setebal 3cm, HDD external (dengan armornya), tumbler S******ks, botol M***te M**d pulpy orange, bbrp lembar kertas A4, payung lipat, barang2 kecil lainnya (pulpen, kabel usb, kartunama, mini tripod, obeng, kopi sachet, dll), serta 8kg mangga harum manis (20 buah). Total weight (beserta tasnya): 15kg.

Minus: rain cover-nya bagian samping kurang panjang, sehingga kalau sedang full load, agak kurang nutup sampingnya.
Load more review..
Remind Me when Item is Ready