Everki EKP121 Atlas - Black
Print
SKU

EVBG1ABK

Berat Pengiriman

6 kg

Garansi

Lifetime(limited due to manufacture defect only)
Untuk pembelian dalam quantity banyak silahkan hubungi sales@jakartanotebook.com untuk mendapatkan diskon menarik.
SUPER DISCOUNTS

Nikmati belanja murah ditambah diskon spesial

1-DAY SHIPPING

Pesanan diproses sesaat setelah pembayaran lunas

TOP PRODUCTS

Semua barang kami terjamin mutu dan kualitasnya

LOWEST PRICE

Kami selalu memberikan harga terbaik tanpa mengurangi mutu
Overview of Everki EKP121 Atlas
Meet the business traveler's best friend.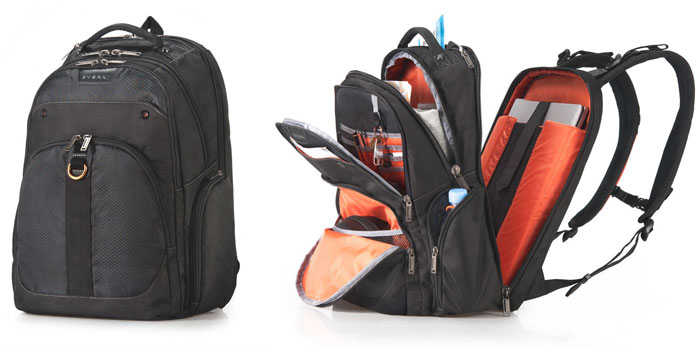 If traveling for business is your thing, then this laptop bag is the ideal companion. From its subtly stylish, handsome exterior to its thoughtfully-organized interior, the Atlas backpack is designed to meet the expectations of even the most serious traveling professional. In addition to featuring a Checkpoint Friendly design that makes passing through airport security a breeze, this bag also debuts Everki's innovative adjustable laptop slot - three separate panels that allow the user to set his or her desired size and secure using sturdy Velcro strips. This pocket holds a 13" Ultrabook just as snugly, safely, and easily as it does a 17.3" laptop, making the Atlas a versatile backpack suitable for any situation.

Like many of Everki's bags, the Atlas comes equipped with a multitude of useful, highly-functional features, including a felt-lined iPad/Kindle/tablet pocket, a trolley handle pass-through slot, and a convenient newspaper/magazine pocket, to name just a few. Combine these with lightweight construction, durable, high-quality zippers, numerous well-organized compartments and slots, a key ring buckle, high-contrast orange lining, and lots of leftover interior space, and you've got everything you can possibly ask for in a laptop bag.

A quick look through the Atlas reveals that Everki created this bag with organization in mind, with a dedicated spot for virtually everything the traveler needs to bring along for the ride – headphones, peripherals, files and documents, water bottle, and plenty more. What's more, its soft lumbar pad and ergonomic five-point balance strap system properly distribute weight to ensure that the wearer is comfortable, even when the bag is fully loaded.

Whether you are flying across the country for a meeting or conference or simply commuting to work, this versatile bag maximizes space and comfort while it minimizes bulk and eliminates hassle.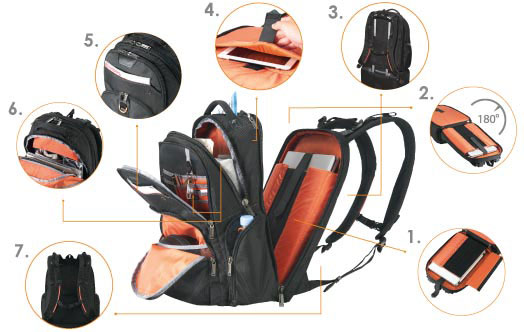 Features
Adjustable Laptop Pocket for 13" to 17.3" Devices

With the range of laptops on the market today, and with many consumers opting to own more than one, it can be hard to find a backpack for all occasions. Whether your computing needs are met by a 13" MacBook Air or similar-sized Ultrabook, or a much larger 17.3" behemoth, the Atlas ensures your device is well-secured and easily accessible within an innovative, adjustable, felt-lined pocket. This versatile pocket shields your computer from the ravages of the road using a trio of softly-padded panels that wrap around your device and firmly fasten with sturdy Velcro strips.

Checkpoint Friendly Design

It is no myth that airport security checkpoints impose more and more rules and restrictions all the time. Breeze through security with the Atlas's Checkpoint Friendly laptop/tablet compartment. Simply open the compartment 180 degrees, lay the bag flat on the conveyor, and watch your devices pass through the x-ray machine without the mess and inconvenience of removing them – and should you for any reason be required to take either out of its slot, you can do so easily, without rearranging the rest of the bag's contents. Fast, simple, and effective.

Trolley Handle Pass-Through Strap

Lighten your load, reduce your burden, and ease the stress of travel with the Atlas's trolley handle pass-through strap. Hidden just behind the lumbar pad sits a space correctly sized to pass smoothly over luggage handles and allow you to stack your bags for increased mobility. This strap is unnoticeable when not in use and its low-key presentation blends in tastefully with the bag's overall appearance. Why struggle with armloads of bags when the Atlas lets you take the load off?

Felt-Lined iPad/Kindle/Tablet Pocket

With the Atlas's dedicated padded slot designed to hold your Kindle, iPad, or other tablet PC, never again will you leave your device vulnerable in an ill-fitting compartment. The rising popularity of tablets and their increasing importance in school and industry make this feature a must when purchasing a new laptop bag. This unique pocket is easily accessible within the bag's laptop compartment, and it comes lined with the same soft felt that protects your notebook and secures using a Velcro strap, so you can rest assured that your iPad or tablet PC will stay just as well-protected as your computer.

Quick-Access Magazine/Newspaper Pocket

It's nice to have something to read while you're waiting for your flight to take off, but digging around for a magazine or the remnants of that newspaper crumpled up deep inside your bag can be awkward, especially when other passengers are trying to get to their seats. That's why Everki outfitted the Atlas with an open, quick-access pocket right at the front of the backpack that is specifically designed to accommodate a magazine and/or newspaper – just one more feature to help take the stress out of travel.

Spacious, Well-Organized Compartments

The Atlas is a model of space and organization. Along with its laptop/tablet compartment and magazine pocket, Everki outfitted this backpack with another large compartment complete with a quick-access storage area, ideal for papers and file folders and separated by a rigid divider from peripherals and other accessories – with plenty of room left over for a sweater or coat to keep you warm on those long international flights. Need more room? Two additional, spacious and versatile compartments sport a range of slots and zippered and mesh pockets for business cards, USB drives, adaptors, toiletry kit, headphones, and other essentials.

5-Point Balance Strap System

Today's tech-savvy traveler needs an ergonomic bag that can carry a lot of weight without adding to it. Everki's 5-Point Balance Strap System distributes weight load evenly, to reduce muscle strain and keep you feeling light on your feet with every step you take while wearing the Atlas. Like most bags, the Atlas has two straps that adjust at the bottom. Everki added two slide buckles at the shoulders and a height-adjustable one across the chest to give you more control over weight distribution and, ultimately, greater comfort.
Additional Features
Lifetime Warranty Protection

You can enjoy peace of mind knowing that with any product in the Everki family, you never have to worry about discovering a flaw or defect after the end of the warranty period. Everki's Limited Lifetime Warranty protects your purchase against manufacturing defects over the entire life of the product.

Multi-Functional Side Pockets with Water Bottle Loop

Side pockets can present a burden and take away from a bag's aesthetic when designed incorrectly. The Atlas's zippered side compartments maintain this bag's flow and provide a perfect place to store small go-to items like your adapter/charger, or even secure a water bottle using a convenient elastic loop.

Soft Lumbar Pad

The Atlas goes the extra mile to keep its wearer comfortable, even while in constant motion. Everki outfitted this backpack with soft mesh lumbar padding that cushions the user where he or she needs it most and takes the edge off of even the most challenging commute.

Easy-Adjust Strap Management System

Dangling straps are a hassle and can dull a bag's professional edge. The Atlas features a discrete slider at the end of each shoulder strap that prevents messy dangling and keeps everything neat and tidy, so you can be sure to always look your best when you walk into the boardroom.

Large Zippers and Metal Zipper Pulls

The Atlas's size 10 zippers are larger and more durable than the hardware found on most other bags in its class. This backpack's strong, all-metal Everki zipper pulls are built to last and feature lock holes to help you protect your valuables while you are on the go.

High-Contrast Lining

With Everki, form and function are not mutually exclusive. In addition to a range of convenient pockets and slots that ensure contents stay in their designated places, the Atlas features a high-contrast orange lining that fits in with the bag's overall theme and makes items easy to find under any lighting condition.
Everki Product Comparison
Untuk membandingkan produk-produk tas Everki Anda dapat melihatnya pada link berikut
Photos of Everki EKP121 Atlas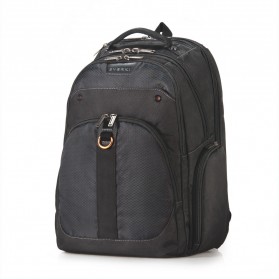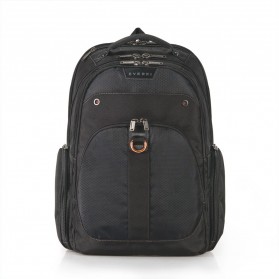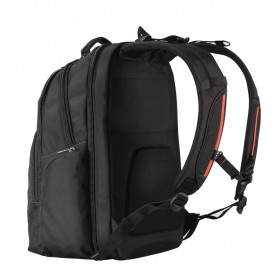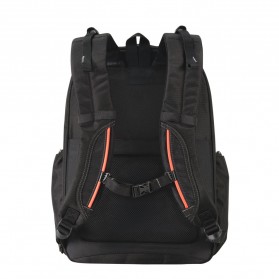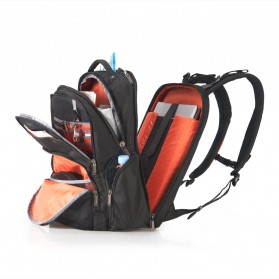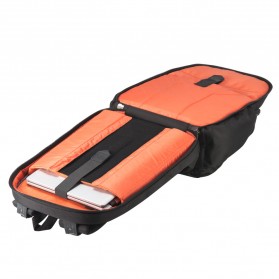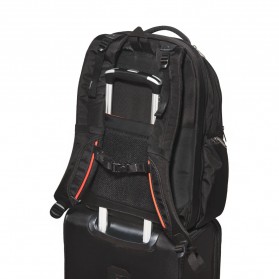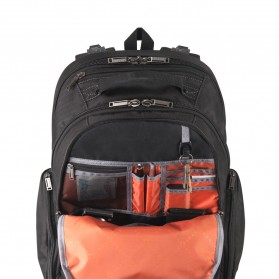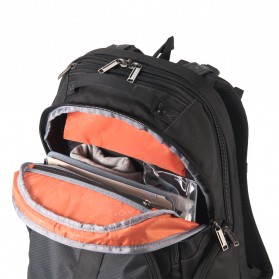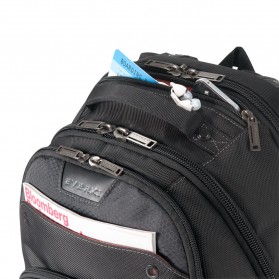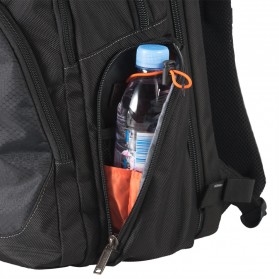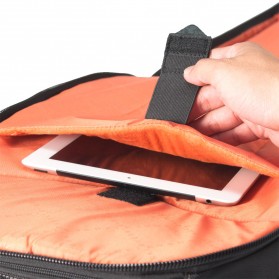 Video of Everki EKP121 Atlas
Technical Specifications of Everki EKP121 Atlas
Fits Laptop Up To
17.3 inch (43,94 cm)
Dimension
Laptop compartment : 11 x 1.5 x 16.5 inch (28 x 3.81 x 41.9 cm)

External dimensions : 13.4 x 9.1 x 18.18 inch (34 x 23 x 47.8 cm)
Weight
3.79 lbs (1.72kg)
mantap, sesuai yang saya butuhkan!

by wijayadi on Nov 19th 2015

selasa order, rabu barang sampe, matap jaknot!
barang bagus, sesuai spek dan penjelasan diatas. saya jadikan standar buat bepergian, maksimal nginap 3 hari masih bisa lah. bahan luar dalam bagus. jahitan rapi. zipper ok. kompartemen dan kantong2 banyak untuk berbagai keperluan.
minusnya: penyambung tali bukan besi. ukuran agak besar untuk daily use.
overall: mantap, sesuai yang saya butuhkan!
thanks jaknot....!

tas muantap....

by AKHMAD MUHLSIIN on Jun 2nd 2014

Pas baget buat jalan2, melancong/kerja luar kota hanya dengan bawa 1 tas karena ukuran dan access yg mudah dengan kantong2 sesuai dengan kebutuhan
Apalagi dengan harga pas discout jakartanotebook

Tq jaknot

AWESOME !!!!

by Mgs M Rizqi Al Fadli on Apr 28th 2014

SEMUA KERAGUAN TERJAWAB !!!! SEMUA KEPUASAN TERPENUHI !!!!! DISKON NYA BIKIN KAGET !!!!! PRODUKNYA KEREN, PENJUAL TOP !!!!

Ecerki Atlas keren abis cuy !

PUAS !

by Mgs M Rizqi Al Fadli on Apr 28th 2014

saya sudah kapok beli tas utk laptop. kualitas nya banyak jelek, sambungan patah, robek lah ..
satu ketika saya keteu tas everki ini di jaknot. Saya cari tau tentang produk everki ini. kesimpulan saya produk ini MANTEP ! .. Pas mau beli saya agak ragu saya jaknot ini takutnya online shop abal - abal .... Pas akhirnya saya ke jakarta, saya sekalian cari tau toko jaknot ini. Akhirnya ketemu juga tokonya. Setelah daftar dan lihat2 akhirnya saya beli juga tas Everki seri ATLAS. waktu itu sy beli tgl 21 April. ternyata ada diskon setiap tgl 21 dan 22 !! Saya udah siapin siapin duit 1,1 juta, ternyata dapat diskon barangnya cuma jd 800rb. KEREN PROMONYA !! beruntung juga pas datang lagi diskon.

Tas EVERKI emang keren. Banyak slot2 nya, bahannya teball, jaitannya kuat, reslitingnnya metal kuat. Walau bawa barang berat, tetep ringan karena di bagian belakang ada busanya yg cukup. Terus ada 5 balancing system. pokoknya manteb deh !!!!! ga nyesel beli ini. Cuma kurang g ada rain coat nya aja. hhhee

pokoknya manteb JAKNOT ! Produk yang dijual juga mateb ! JAKNOT SATU - SATUNYA DEALER RESMI PRODUK EVERKI !!

Puas..

by Andre Pratama on Oct 13th 2013

1 people found this review helpful

Hanya 1 kata.. PUAS.
Setelah 1 tahun beli di JakNot dan pakai Everik Swift, saya mulai merasa bahwa Brand Everki ini serius menggarap produk"nya.
Akhirnya setelah merasa membutuhkan Backpack yg lebih compact, besar dan fitur" yg saya butuhkan, mulai mencari lagi Backpack keluaran Everki yg lebih bagus dan tangguh di segala kondisi.


Akhirnya menjatuhkan pilihan pada Everki Atlas ini, meskipun masih baru dan belum ada review di website" lain ataupun JakNot.
tapi Saya PUAS banget dengan pilihan saya 1 ini.
tidak lebih besar daripada Everki Titan, elegan bisa di bawa acara" seminar yg agak resmi atau meeting kantor ( seperti Everki Versa ) , fitur checkpoint friendly yg nantinya bakal memudahkan pada saat X-Ray scan di Airport dan fitur barunya yg bisa custom fit wrap laptop ( notebook) compartment, pindah" laptop dari pakai Macbook Pro 13, MBP 15 old, dan Toshiba notebook, bikin hati jadi tenang laptop tidak bakal goyang" di dalam tas.


Puas puas puas deh..
Remind Me when Item is Ready
1
Pengunjung sedang melihat Produk ini