IZZY POWER DC to AC Car Inverter HT-E-350-12 350 Watt 12 Volts (with cigar plug and clip cable)
Print Friendly Version
Informasi Produk :
Dijual oleh

Toko Cendana 100% Verified Seller

SKU

IPCI0EXX

Berat Pengiriman

1 kg

Garansi

1 Tahun(Garansi Servis Lifetime)

Pilihan Warna

Stok Sekarang
Scheduled to arrive in 07 November 2016
Dilengkapi 2 kabel : PLUG ke Cigarrete Plug & Clip kabel langsung ke AKI.
Normal Rp. 475.000,-

Rp. 385.200,-

hemat Rp. 89.800,- (19%)
Add to cart
Simpan ke Watch List
Pembelian dalam jumlah banyak hubungi:

SUPER DISCOUNTS

Nikmati belanja murah ditambah diskon spesial

1-DAY SHIPPING

Pesanan anda langsung diproses sesaat setelah pembayaran lunas

TOP PRODUCTS

Semua barang kami terjamin mutu dan kualitasnya

LOWEST PRICE

Kami selalu memberikan harga terbaik tanpa mengurangi mutu
Simulasi Cicilan Kartu Kredit
Bank
Jangka Bulan
Bunga
Jumlah Cicilan
Minimum Transaksi

0.75%
12 x 34.989
Rp. 500.000,-
Promo cicilan ini hanya berlaku untuk pembelian langsung ke Toko Pusat di Jakarta Mininum transaksi adalah jumlah total yang harus dibayar dalam 1(satu) invoice
Overview of IZZY POWER DC to AC Car Inverter HT-E-350-12 350 Watt 12 Volts (with cigar plug and clip cable)
The Best Power Solution Provider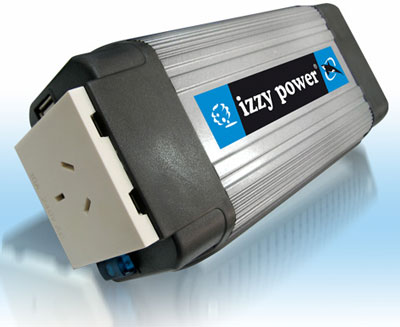 Izzy Power Car Inverter dengan model HT-E-350-12 dilengkapi USB port dapat menjadi solusi bagi Anda yang ingin berpergian dan pada saat listrik padam. Inverter ini dapat mengubah arus DC menjadi AC sehingga dapat menjadi penyuplai perangkat digital Anda yang membutuhkan daya hingga 350 Watt. Selain itu, car inverter ini juga dilengkapi dengan tombol switch on-off.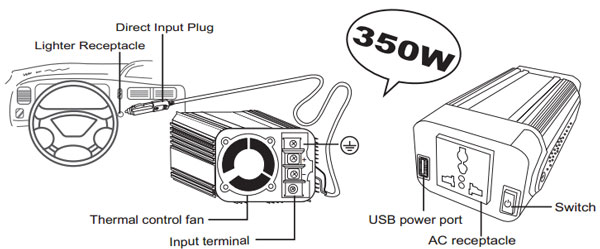 Features
Desain silinder yang kompak dan ringan
Inverter ini didesain dengan bobot yang ringan sehingga ketika sedang dicolokkan ke lighter plug di mobil tidak terlalu berat dan membuatnya mudah terjatuh. Dengan bentuk silinder, inverter ini tidak memakan tempat untuk ditempatkan di dashbord mobil.
Mengubah arus DC ke AC
Izzy Power Car Inverter dapat mengubah arus DC menjadi AC yang dapat menjadi penyuplai perangkat digital. Hanya dengan menghubungkan perangkat digital atau perangkat apapun dengan car inverter ini, maka Anda akan mendapatkan daya hingga 350 Watt. Oleh karena itu, Anda tidak perlu khawatir kehilangan daya pada saat berpergian ataupun pada saat listrik padam.
Port USB
Izzy Power Car Inverter dilengkapi dengan port USB sehingga Anda dapat mencolokkan kabel USB untuk mengisi daya pada handphone, game konsol, tablet, dan perangkat lainnya.
Fungsi Restart
Izzy Power Car Inverter model HT-E-350-12 Watt ini dilengkapi dengan fungsi restart yang dapat dipakai jika terjadi trouble yang membutuhkan fungsi tersebut.
Detail Spesification
Model No.

HT-E-350-12

HT-E-350-24

Wave form

Modified Sine Wave

AC voltage

100V/120V/230V

Output power

350W

Surge power

700W

Frequency

50/60Hz±3%

AC regulation

±8%(100V:±10%)

No load current draw

0.25A

0.2A

DC voltage

12V

24V

Voltage range

9.5~16VDC

19~32VDC

Efficiency

>85%

DC connector

clip cable + Cigar plug (optional)

Bat. Low alarm

10±0.5V

20±1V

Bat. Low shutdown

9.5±0.5V

19±1V

Over voltage

16±0.5V

32±1V

Over Temperature

55?±5?

Short circuit protection

Shut-off

Bat. Polarity Reverse

Fuse burn out

Over load

Re-start 1 time. Shut down if failed

Working temp.

-15?~ +45?

Working humidity

20%~90%RH non-condensing

Storage temp., Humidity

-30?~ +70?/-22?~ +158?, 10~95% RH

Temp. coefficient

±0.05%? (0~55?)

Dimension (LxWxH)

175x85x55 mm

Net weight

0.56 kgs
Untuk informasi lebih lanjut mengenal Izzy Power Car Inverter model HT-E-350-12 Watt ini, silahkan klik link berikut : Informasi
Photos of IZZY POWER DC to AC Car Inverter HT-E-350-12 350 Watt 12 Volts (with cigar plug and clip cable)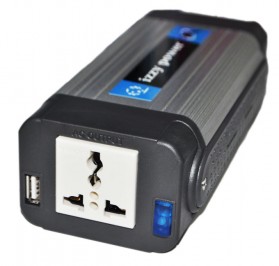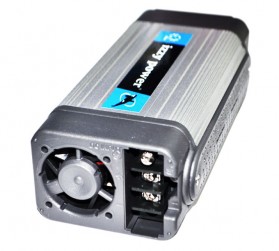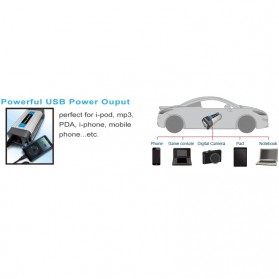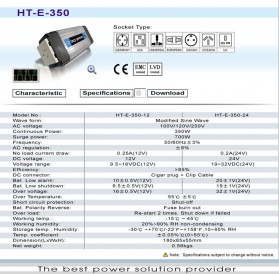 Langsung Beli 2 Izzy Power-nya

by Priyo Pratama on Jan 19th 2016

Hati-hati Beli di JakNot, banyak virusnya yang bisa bikin pelanggan order terus. Mata ini tidak bisa menolak untuk order setiap melihat barang di Jak Not. Coz barangnya unik-unik, murah, dan bagus pula. Sebenarnya banyak yang sudah dibeli dan harus diberi review, overall semua barangnya bagus bagus. Seperti Inverter Izzy Power yang ini, saya langsung beli 2. Mangstab emang produknya. Sukses selalu buat Jak Not untuk ke depannya, perbanyak itemnya lagi.

cocok buat backup power

by Obed on Dec 26th 2015

Awalnya beli yang model slim 150 watt trus ketarik beli yang wattnya gedean 350 watt, alhasil tgl 26 des 2015 setelah liburan nyempatkan diri ke Jaknot dan antri, trus coba di mobil oke padahal mobil carry tipe angkot, wkwkwk, truz tes di motor oke juga tapi idupin mesin takut aki drop...

Kesimpulan : puas makenya, dan nyata kualitasnya... sukses buat jaknot... semoga barangnya awet...

Oke deh....

by Henky Prionggo on Dec 11th 2015

Converternya sudah sampai, tapi belum dicoba. Sayangnya sticker garansi yand ada di converter sudah sobek. Mohon perhatian pihak jaknot, karena kalau sudah sobek maka garansi 1 thnnya bisa avoid. Thx.

Barang bagus tapi proses lama

by Vizra on Jul 5th 2015

Barang sudah sampai dengan aman tapi proses sebelum pengiriman masih terlalu lama hingga memakan satu hari

Good

by azka maulana dwiputra on Jul 3rd 2015

Alat yg bagus untuk perangkat yg kekurangan daya dalam perjalanan jauh.
Pas banget buat mudik nanti. Jadi gak khawatir pas smartphone low batt.
Terima kasih untuk jaknot.
NB: packingnya bagus tp kegedean box nya. Kasian paketnya kmana2 didalem box.
Semoga diterima kritiknya.

suwarno

by suwarno on Apr 16th 2015

ok thankyou ....barang sdh nyampai hari ini ( jam 15:15 )

Made in Taiwan

by La Ivan on Oct 1st 2014 1 / 1 people found this review helpful

Mantap, pesan 1 hari sampai via jne reg, packing rapih sekali, barang dengan kualitas jauh diatas buatan cina, produknya sangat rapih dengan material yang bagus, sekringnya di kabel luar, overall saya puas sekali berbelanja online di jakartanotebook.com.

terima kasih

by Jarod Yunanto P on Jul 9th 2014

Terima kasih. Barang sdh diterima dengan selamat. Belum dicoba sih. Semoga awet

terima kasih

by Jarod Yunanto P on Jul 9th 2014

Terima kasih jaknote. Barang sdh diterima dengan selamat. Belum di yes sih. Semoga awet.

barang luaaarrrbiasa

by heri zulkarnaen on Aug 3rd 2013 9 / 9 people found this review helpful

ni barang betul2 fantastik, auto nya benar2 jalan dengan baik, saat beban lbih otomatis mati&restar sendiri ketika beban dah sesuai, merk lain biasanya jbol.. saat konslet pun gak bermasalah, betul2 luar biasa, saya
Remind Me when Item is Ready