Kingston DataTraveler MicroDuo USB 3.0 Micro USB OTG 32GB - DTDUO3/32GB - Black
Print
SKU

KIFD22BK

Berat Pengiriman

0.04 kg

Garansi

5 Tahun(Limited Warranty)
Claim garansi harus diserahkan beserta kotak produk dan semua kelengkapan isi di dalamnya.
SUPER DISCOUNTS

Nikmati belanja murah ditambah diskon spesial

1-DAY SHIPPING

Pesanan diproses sesaat setelah pembayaran lunas

TOP PRODUCTS

Semua barang kami terjamin mutu dan kualitasnya

LOWEST PRICE

Kami selalu memberikan harga terbaik tanpa mengurangi mutu
Overview of Kingston DataTraveler MicroDuo USB 3.0 Micro USB OTG 32GB - DTDUO3/32GB
USB 3.0 in a colorful design
Kingston's DataTraveler® microDuo Flash drives provide additional storage in a small, convenient form factor for tablets and smartphones that support the USB OTG (On-The-Go) functionality. The USB OTG standard allows mobile devices to directly connect to supported USB devices.

DataTraveler microDuo Flash drives allow microUSB ports, often used for charging devices, to be used as expansion ports for up to 64GB of additional storage. Ideal for storing large files while traveling, DTDUO gives plug-and-play functionality to tablets and smartphones without microSD ports at a lower price per GB than the extra built-in storage on a mobile device.

With smartphones and tablets recording HD video and taking higher resolution photos, space on these devices gets used up faster than ever. DTDUO Flash drives let users move files, photos, videos and more — without plugging into a PC1 — to offload or backup content. Sharing large files between mobile devices is easier than using online cloud services, and there's no need for a cable to transfer data between the device and a PC.

Available in USB 2.0 or USB 3.0, DT microDuo Flash drives are small, lightweight and easy to take anywhere, plus their sleek design complements any mobile device. The rotating cap protects the microUSB connector from damage.

DataTraveler microDuo Flash drives are backed by a five-year warranty, free technical support and legendary Kingston® reliability
Features
Features of Kingston DataTraveler MicroDuo :
USB OTG (On-The-Go) - a standard which enables host functionality in certain phones/tablets with microUSB ports, enabling connectivity to USB devices like Kingston's DT microDuo
2-in-1 - microUSB and USB connectors for easy transfer of files between smartphones, tablets and computers
Plug-and-Play - simply connect as you would a standard USB Flash drive
Convenient - ultra-small, pocket-sized design for easy transportability
Speed - available in either USB 2.0 or USB 3.0 to complement your existing devices
Photos of Kingston DataTraveler MicroDuo USB 3.0 Micro USB OTG 32GB - DTDUO3/32GB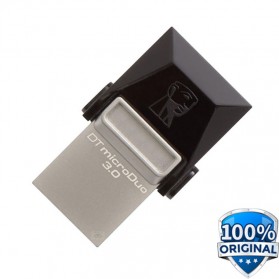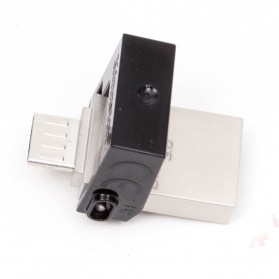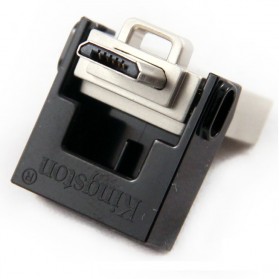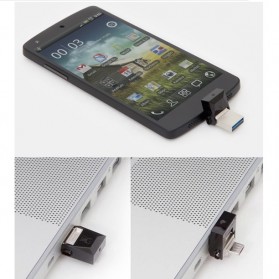 Video of Kingston DataTraveler MicroDuo USB 3.0 Micro USB OTG 32GB - DTDUO3/32GB
Technical Specifications of Kingston DataTraveler MicroDuo USB 3.0 Micro USB OTG 32GB - DTDUO3/32GB
Input Device Type
USB 3.0
Storage
32GB
Read Speed
70MB/s
Write Speed
15MB/s
Software Support
Windows® 8.1, Windows 8, Windows Vista®, Windows RT, Mac OS X v.10.6.x+, Linux v.2.6+
Dimension
27.63 x 16.46 x 8.56 mm
Others
Operating Temperature 0°C to 60°C

Storage Temperature -20°C to 85°C
Kingston DataTraveler MicroDuo USB 3.0 Micro USB O

by Nn on May 25th 2019

Suka yg kecil-mungil, hanya saja pengaitnya gampang kendor.
Sudah 2 tahun lebih pakai Micro USB OTG yg ini, sudah beberapa kali format juga dan jatuh-jatuh,
tetep awet....
(sudah 12 tahun lebih pakai merk Kingston belum pernah ada keluhan masalah fungsi, desain modelnya memang biasa2 saja dari dulu)

OKeee...

by Aji on Mar 19th 2016

ini pembelian an ke 2, enak si praktis kecil masuk sm otg xiaomi redmi 2 prime sama redmi note 2 ane... ini beli lg gra2 ga tau knapa yg lama error (ud ckup lama)..

KINGSTONE OTG

by Nanda Adriansyah on Mar 10th 2016

Design cukup kekinian.
Fungsional excelent.
Tinggal test, kuat berapa lama nih barang.
Baru 4 hari coba, overrall good.

The Best Actor

by Achmad Qodim on Oct 6th 2015

Meski baru coba di level awal sangat puas, speed oke, sdh dibandingkan dengan perangkat lain dg support USB 3.0
Tinggal mo nyoba strontium yg support USB 3.0

Nice jaknot...

Design bagus, kecepatan lumayan

by Pramana Yhoga Chandra Kusuma on Sep 13th 2015

Desain cukup pas untuk otg flash disk yg ada usb port nya. Kecepatan transfer juga lumayan cepat krn sdh usb 3.0.

Kecil, mungil, imut, TIDAK MENGECEWAKAN

by Indra Prabu Dewantara on Aug 14th 2015

keren binggo ... gak kecewa beli barang di JAKNOT
thanks jaknot :D

Mantapp

by Riri on Aug 4th 2015

Dimana lagi bisa beli OTG Kingston 32 gb dengan harga semurah ini...?

Sayang flash disk nya kecil banget, jadi mesti ekstra hati-hati biar nggak keselip/hilang

Barang lumayan bagus

by Sutomo on Jul 6th 2015

Dah beli dan dah coba...
kelebihan:
- Kecil, simple (klo di colok ke slot hp nga mentok casing)
- Kualitas bahan OK (tutup plastik kuat, bahan platenya dari besi bagus).
- Transfer data lebih cepet dari usb biasa yg ane punya yg msh 2.0.

Kekurangan :
- Agak panas jika dicolok ke slot hp (jika ada proses data). klo ke laptop hanya hangat.
- Tutupnya saat di colok ke hp agak ganjel (tergantung merk dan type hpnya sih, ak pake sony xperia).

Murah Berkualitas

by Lutfy Hasan on Jul 1st 2015

Mantap, barang nya murah tapi spek lumayan. Dikirim tgl 24 nyampe tanggal 30, no problem.Overall OKE!!

Mantabs barangnya !

by Sholeh Junaedi on Feb 19th 2015

1 people found this review helpful

ini pertama kali saya belanja online di jaknote, overall mantabs pelayanannya, respon cepet, senin transfer-kamis siang dah nyampe kediri....puas dah.

Kingston DataTraveler MicroDuo USB 3.0 Micro USB OTG 32GB ini menarik perhatian saya karena ukuran kecil, bisa USB OTG dan juga sebagai flashdrive biasa dengan dukungan USB 3 yg menjamin kecepatan transfer data.

keren dah simungil satu ini cocok dipakai smartphone yg gak menyediakan slot microsd tambahan seperti himax pure III, karena ukurannya kecil jadi nggak begitu mengganggu saat dipakai
minusnya mungkin karena ukuran kecil jadi rawan teselip & hilang dan mungkin jika ditancap lama di HP akan terasa panas

Terima kasih Jaknote.
Load more review..
Remind Me when Item is Ready
1
Pengunjung sedang melihat Produk ini