Lenovo EMC PX2-300D Network Storage - Black
Print
No review yet
[ add review ]
Dijual oleh

Blitzwolf 100% Verified Seller

SKU

ILEH01BK

Berat Pengiriman

5.5 kg

Garansi

14 Hari

Pilihan Warna

Stok Sekarang
Not Include Hard Drive and Camera.
Normal Rp. 3.500.000

Rp. 2.089.000

hemat Rp. 1.411.000,- (41%)
Add to cart
Simpan ke Watch List
Pembelian dalam jumlah banyak hubungi:

Silahkan tunjuk Ekspedisi Murah yang Anda inginkan
SUPER DISCOUNTS

Nikmati belanja murah ditambah diskon spesial

1-DAY SHIPPING

Pesanan diproses sesaat setelah pembayaran lunas

TOP PRODUCTS

Semua barang kami terjamin mutu dan kualitasnya

LOWEST PRICE

Kami selalu memberikan harga terbaik tanpa mengurangi mutu
Overview of Lenovo EMC PX2-300D Network Storage
AFFORDABLE NETWORK STORAGE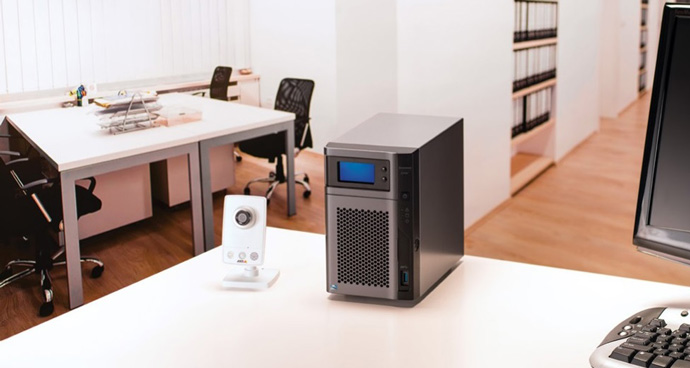 YOUR CRITICAL DATA STORED, SHARED AND PROTECTED IN A COMPACT FORM FACTOR.
Powered by enterprise-class LenovoEMC ™ technology, the Lenovo ® EMC ® px2-300d is a compact, ultra-fast, server-class storage solution built for advanced data protection and cloud convenient content sharing. With many business features, like iSCSI block access, confi gurable RAID, deduplication, Mindtree ® video surveillance solution and embedded cloud capabilities like Personal Cloud technology and Atmos ® Cloud Connector, the Lenovo EMC px2 is ideal for small-to medium-sized businesses and distributed enterprise locations like branch and remote offi ces who need to store, share and protect their critical data. With up to 6TB of storage, the px2 offers a diskless confi guration, so your storage can grow as your business grows.
EMBEDDED CLOUD TECHNOLOGY
Lenovo offers a fast and effi cient "on-ramp" to the cloud along with fl exible options for safeguarding business-critical data. With Lenovo, you have unprecedented choices, including personal and hybrid (public/private) clouds, to meet your business, budget and data protection needs. Regardless of approach, Lenovo ensures that fi les and folders can be easily backed up directly from any Lenovo device to the cloud—it's really that simple and seamless to ensure vital business data is safe and sound.
VIDEO SURVEILLANCE STORAGE
With Lenovo network storage devices, it's easy to view, archive, protect and share physical security video and audio fi les from anywhere with built-in video surveillance solutions. The Lenovo EMC px2-300d comes equipped with Mindtree ® SecureMind ™ Surveillance Manager to deliver a stand-alone VMS that easily sets up recordings and confi gurations directly and offers live monitoring, video recording, and easy, fast video playback from multiple IP cameras.
FEATURES
Enhanced Operating System
Powerful LenovoEMC ™ LifeLine ™ software allows users to store and manage all of their valuable data on one centralized, secure, affordable storage appliance.
System Status Dashboard
The LenovoEMC LifeLine system status dashboard provides a one-stop-shop for space usage, device information, control, and status. If one of these components has encountered an error, you are linked to the page that requires your attention.
RAID Support
RAID 1, 0 and JBOD, automatic RAID rebuild and hot swap.
Dual Gigabit Ethernet Connectivity
For bonding or failover.
iSCSI Target
Provides block-level access for the most effi cient storage utilization, especially for backup, database and email application performance. It can be used in parallel with fi le-level storage access via CIFS/NFS. Includes support for persistent reservations.
Snapshots
Allows backup of a source volume at a certain point in time and restore to the source volume, reverting to its state at the time.
Deduplicating Backup with EMC ® Avamar
Equipped with integrated data deduplication technology, Avamar facilitates fast, daily full backups signifi cantly reducing backup windows.
Sharing
Access fi les from any networked Windows ® PC, Linux ® or Mac ® for easy fi le sharing and data backup.
Simplifi ed Backup
PC Backup with Acronis.
LenovoEMC ™ Link
LenovoEMC Link gives you a direct link to your LenovoEMC device via your iPhone, iPod Touch, iPad, or Android mobile device.
Remote Access
You can safely connect to your valuable fi les from anywhere in the world, through an internet connection.
Power Savings
Idle drive spin-down reduces power consumption; a variable-speed fan ensures that only the right amount of power is used to cool your device.
Power Handling Improvements
Scheduled power off/Wake On LAN supports the ability for a device to 'go to sleep' and shut itself down or 'wake on' when there is little to no traffi c or activity to reduce power consumption.
Encrypted Volume
Allows you to create an encrypted volume with an assigned password; thus securing the data on the encrypted volume.
Anti-Virus Scanning
Built-in anti-virus scanning and cleaning with McAfee ® VirusScan ® Enterprise.
Network File Protocols Supported
CIFS/SMB/Rally (Microsoft), NFS (Linux/UNIX), AFP/Bonjour (Apple), FTP, SFTP TFTP, HTTP, HTTPS, WebDAV, Windows DFS, SNMP.
Virtual Environment Support
VMware ® , Citrix XenServer ™ and Windows ® certifi ed for NFS (VMware only) & iSCSI.
Device-to-Device Data Replication
Replicate your data from Lenovo network storage device to LenovoEMC network storage device, to an external USB drive, or to another network target.
Backup-to-Disk (B2D) Target
With HCL listing, Lenovo network storage products are identifi ed as compatible disk targets for Symantec ™ Backup Exec ™ software.
Video Surveillance
Use as a Surveillance Storage Target and simply store surveillance video on up to 6TB of capacity and utilize remote management; or get an all encompassing solution that blends smart storage, leading VMS software and IP cameras with the Integrated Video Management System (IVMS), connecting up to 16 cameras per device with Mindtree ® SecureMind ™ Surveillance Manager; utilize cloud technology for a low-cost solution with the Hosted Video Surveillance Solution (HVSS).
Personal Cloud Technology
The ultimate data protection and remote access solution for SMBs, this web-based solution protects valuable business information and is completely self-owned, so there are no usage or subscription charges.
Cloud Backup Options
Back up selected fi les directly from your Lenovo network storage to the MozyConnect ™ , Atmos or Amazon S3 ™ storage clouds for off-site safekeeping of important data. Additional charges apply.
Mac OS X Lion and Time Machine ® Support
Supports Mac Mountain Lion OS X 10.8 and Time Machine, allowing the LenovoEMC to serve as a Time Machine target for your Apple computers.
User Quotas
Manage capacity by setting a maximum for shared storage.
UPS Support
Enables unattended system shutdown via the USB port without data loss in the case of power failure.
UPnP ™ and DLNA ® compatible
Lenovo EMC px series will work seamlessly with digital products you may own or buy from different manufacturers allowing you to save, store and stream all kinds of multimedia fi les.
Expandability
Add storage capacity by connecting external USB Hard Disk Drives; read and write on Fat32, NTFS, HFS+, or ext2/ext3 formatted hard disks.
Photos of Lenovo EMC PX2-300D Network Storage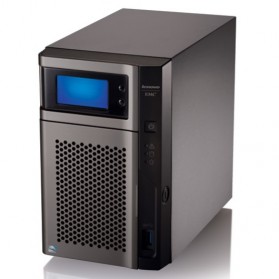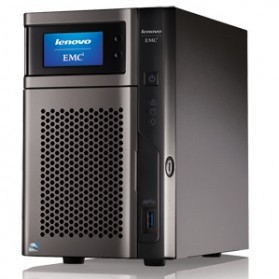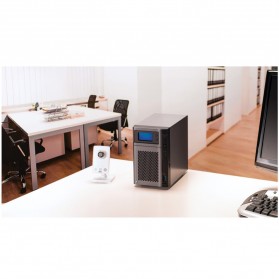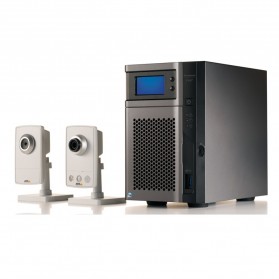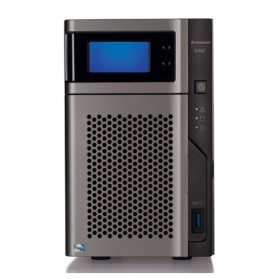 Video of Lenovo EMC PX2-300D Network Storage
Technical Specifications of Lenovo EMC PX2-300D Network Storage
Processor Onboard
Intel Atom Dual Core 1.8GHz D525 processor
Memory Type
2GB DDR3
Capacity
Desktop form factor; supports up to 2 3.5" SATA HDDs (trays included)
2-drive configurations include SATA-II Server-Class 7200rpm hard drives

Raid Support:
- RAID 0, 1 (Hot swap in RAID 1)
- JBOD mode available
- Note: RAID/storage pool should be the same capacity, speed, and manufacturer. Mixing different types of drives may result in unpredictable behavior.
Input Device Type
1 x USB 3.0 and 2 USB 2.0 ports 2 x RJ45 10/100/1000Mbps (GbE) Ethernet ports 1 x VGA port LAN Standards : IEEE 802.3, IEEE 802.3u
Software Support
Available 10/100/1000 Mbps network Ethernet port Internet Explorer 7, Firefox 3.x, Chrome 9, Safari 4 or later browser Personal cloud and remote access require an internet connection; UPnP™ compatible router or administrative rights to port forward; 2.5 Mbit/s download, 500Kbit/s upload (not compatible with Active Directory or XP 64 bit) PC Users : Microsoft Windows XP / Vista / 7 / 8 Mac Users : Mac OS X 10.6 - 10.8 Linux Users: Redhat Enterprise 6, Ubuntu 11, OpenSUSE 11.4, other compatible Linux versions
Output Voltage
Power Consumption : - Max : 40W - Min : 20W (drives spun down) - Peak : 65W for 1.5s - Note : These values represent a fully loaded device with the highest capacity HDD. Values may differ with other configurations.
Others
Acoustic Noise : 28 dBA maximum Ambient Temp : Operating: 10° to 35° C(50° to 95° F); Non-Operating: -40° to 60° C (50° to 140° F) Temp Gradient : Operating : 12° C per hour Humidity (non-condensing) : Operating: 8% to 85% R.H.; Non-Operating: 5% to 95% R.H. Max Wet Bulb : Operating: 26.6° C; Non-Operating: 29.4° C Altitude : Operating : to 7,500 feet; Non-Operating: to 40,000 feet
Frequently Asked Questions (F.A.Q.)
q

maksimum bisa diisi hardsik berapa TB?

a

Up to 6TB gan, dengan tipe harddisk 3.5mm
q

apakah sudah termasuk hardisk & berapa kapasitasnya ?

a

Belum termasuk harddisk gan :)
Belum ada user yang mereview produk ini
Remind Me when Item is Ready