Topping TP60 Class-T Digital Amplifier Tripath TA2022 - Black
Print
SKU

TNSK0ABK

Berat Pengiriman

6 kg

Garansi

1 Bulan
SUPER DISCOUNTS

Nikmati belanja murah ditambah diskon spesial

1-DAY SHIPPING

Pesanan diproses sesaat setelah pembayaran lunas

TOP PRODUCTS

Semua barang kami terjamin mutu dan kualitasnya

LOWEST PRICE

Kami selalu memberikan harga terbaik tanpa mengurangi mutu
Overview of Topping TP60 Class-T Digital Amplifier Tripath TA2022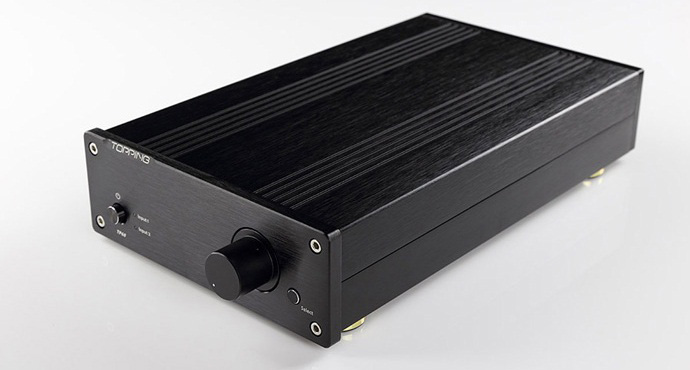 The TP60 is Topping's flagship mini amplifier. It's designed using the venerable Tripath TA2022, dual toroidal transformers, and top-notch components throughout. When only the best will do, choose the Topping TP60.
Features
Tripath TA2022 Chipset
As the flagship of the Topping line of mini amplifiers, the TP60 is an exercise in no-holds barred design creating—quite possibly—the perfect amplifier for audiophiles. Flush with features, the Topping TP60 is built around the Tripath TA2022 which features DPP™ digital power processing and includes one dedicated toroidal transformer per channel for extremely stable rail voltages; making for an amplifier that lives up to its rated output without running out of gas.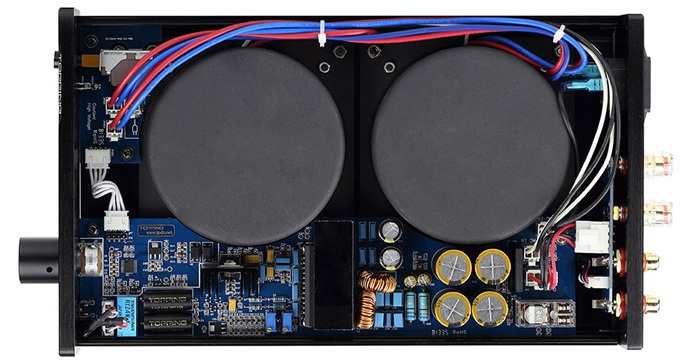 Dual RCA Input
This amp features two sets of stereo RCA inputs selectable manually or auto-switched for use with multiple sources.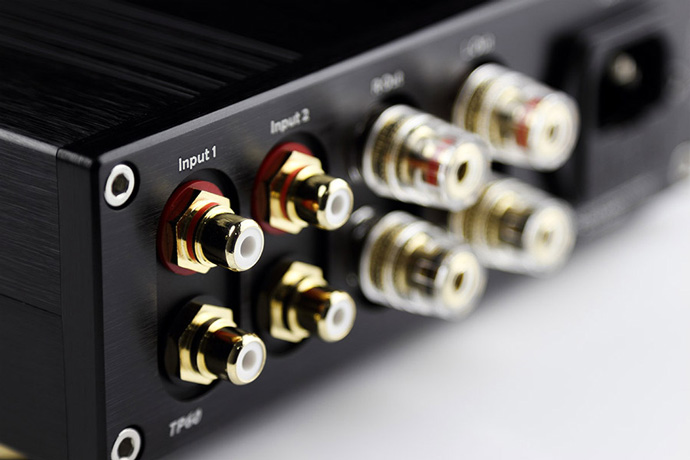 Two-Channel Output
The TP60 is a 80W/channel continuous average two-channel Class-T Digital Audio Power Amplifier IC using Tripath's proprietary Digital Power Processing™ technology.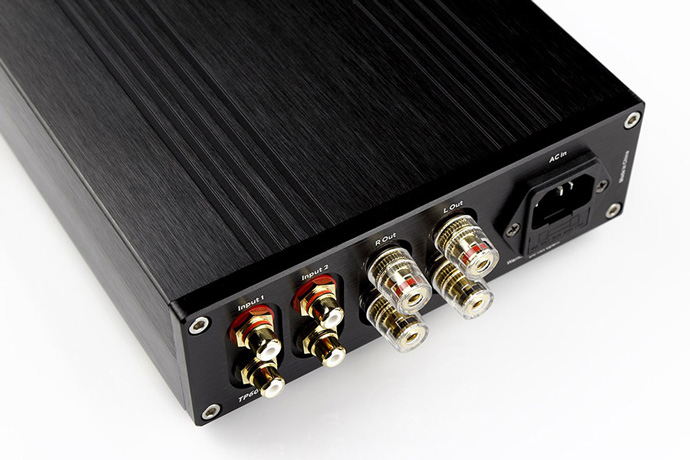 CNC-Machined Aluminum Construction
The housing of this little amp is made from aluminium with a nice and Thick front plate and a high quality powder coated and ribbed housing. The connectors used are gold plated and of exellent quality, The volume knob has lighting on the back side instead of the one LED on the older model, this is much eazyer to the Eye.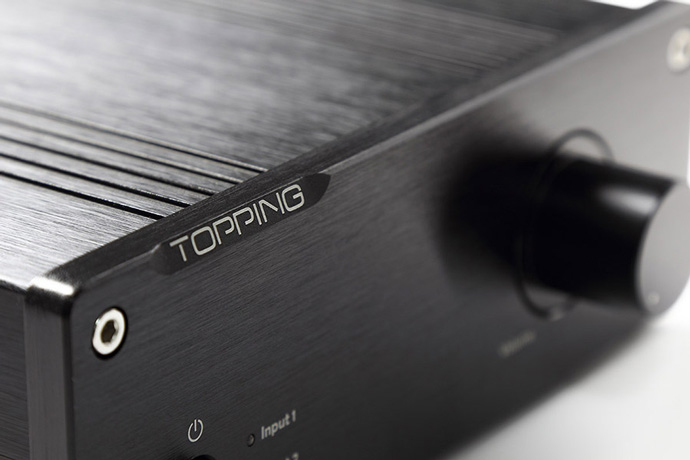 High Grade Components
HIFI Electronic Components:
ALPS Potentiometer
Nichicon FW Capacitance
EPCOS Capacitance
AVX Capacitance
KEMET Capacitance
OMRON Relay
TAKAMISAWA Relay
Spesification
| | |
| --- | --- |
| Analog input | RCA input x 2 (2 x L & R input) |
| Amplifier output | Binding Post (L & R channel), Single-end output |
| Net weight | Approx (unit only) |
| Dimensions | Approx 32.7CM x 17.4CM x 6.5CM |
Suitable Speaker Impedance
4-8 ohm
Maximum output power
80W (RL=4

ohm

, THD+N=10%)
50W (RL=8

ohm

, THD+N=10%)
Output resistance
80m

ohm

Minimum THD+N
0.0065%
THD+N(@1kHz)
0.0085%
Frequency response
20-20kHz (-0.2 to +1.5dB)
Input sensitivity
860mVrms
Noise
<200uV
Gain(@1kHz)
27.3dB
Package Contents
All item you get from the box:
1 x Topping TP60 Amplifier
1 x Power Adapter
1 x User Manual
Video YouTube di bawah hanyalah ilustrasi fungsi dan penggunaan produk. Kami tidak menjamin barang kami 100% mirip dengan produk dalam video YouTube tersebut.
Photos of Topping TP60 Class-T Digital Amplifier Tripath TA2022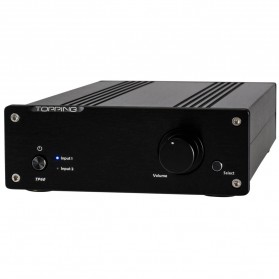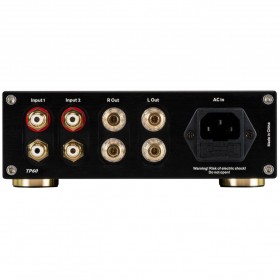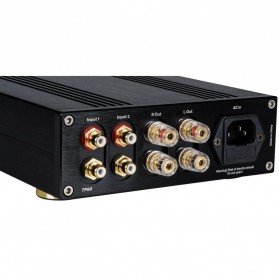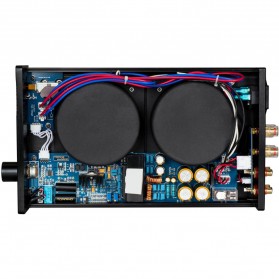 Video of Topping TP60 Class-T Digital Amplifier Tripath TA2022
Belum ada user yang mereview produk ini
Selamat Datang di
Tentukan cabang toko Jaknot terdekat dengan lokasi Anda
Ruko Garden Shopping Arcade No. 8EK
Podomoro City - Central Park
Jl. Letjen S. Parman Kav. 28
Grogol - Petamburan
Jakarta Barat
11470
Jam buka hari biasa:
Senin - Sabtu : 09:00 - 19:00
Minggu : 12:00 - 19:00
Jam buka hari besar:
Senin - Minggu : 12:00 - 20:00
Telp : (021) 5698 5511
Call (WhatsApp) : 0898 1200 100
COD (WhatsApp) : 0899 557 9090
E-Mail :
[email protected]
Jl. Sriwijaya no. 96-98
Semarang Selatan
50242
Jam buka hari biasa:
Senin - Jumat : 09:00 - 19:00
Sabtu : 09:00 - 17:00
Minggu : 09:00 - 16:00
Hari Besar : Libur
Telp : (024) 8314 663
HP / Whatsapp / LINE :
0895 1008 1191
E-Mail :
[email protected]
Ruko Sandiego mainstreet MR 2 No. 6 (79)
Pakuwon City Laguna Indah
Surabaya Timur
60112
Jam buka hari biasa:
Senin - Jumat : 09:00 - 20:00
Sabtu - Minggu : 09:00 - 16:00
Hari Besar : Libur
Telp : (031) 5950 150
HP / Whatsapp :
0898 152 0195
E-Mail :
[email protected]
Ruko Puncak Bukit Golf Block RAP
Jalan Pradah Jaya I
Pradah Kali Kendal
Surabaya Barat
60226
Jam buka hari biasa:
Senin - Jumat : 09:00 - 20:00
Sabtu - Minggu : 09:00 - 16:00
Hari Besar : Libur
Telp : (031) 9914 9510
HP / Whatsapp :
0813 3294 8286
E-Mail :
[email protected]
Jl. A Yani no.669
Cicadas Gateway Apartment Bandung
Ruko blok C2 no.6
Kel. Padasuka - Kec. Cibeunying kidul
Bandung
40121
Jam buka hari biasa:
Senin - Jumat : 09:00 - 19:00
Sabtu : 09:00 - 17:00
Minggu dan Hari Besar : 10:00 - 18:00
Hari Besar : Tetap Buka
Telp / COD : 022 205 398 80
Whatsapp Sales :
0896 5226 0940
WA Pickup :
0896 5429 1230
E-Mail :
[email protected]
BSD City
Ruko Golden Boulevard Blok E no. 6
Lengkong Karya - Serpong Utara
Tangerang Selatan
15310
Jam buka hari biasa:
Senin - Jumat : 10:00 - 19:00
Sabtu - Minggu : 10:00 - 18:00
Hari Besar : Libur
Whatsapp Sales :
08 777 60000 43
E-Mail :
[email protected]
Jl. Jenggala No. 75
Kel. Madras Hulu - Kec. Medan Polonia
Kota Medan
20151
Jam buka hari biasa:
Senin - Jumat : 10:00 - 18:00
Sabtu : 10:00 - 16:00
Minggu dan Hari besar : Libur
Whatsapp Sales :
0895 2425 0506
E-Mail :
[email protected]
Jl. A.M. Sangaji No.68 A
Cokrodiningratan, Kec. Jetis
Yogyakarta
55233
Jam buka hari biasa:
Senin - Sabtu : 09:00 - 18:00
Minggu : 10:00 - 17:00
Hari besar : Libur
Whatsapp Sales :
0878 8282 4342
Whatsapp CS :
0895 6390 11345
E-Mail :
[email protected]
Jl. Boulevard Raya Blok TB2 No.29
Kelapa Gading Timur
Jakarta Utara
14240
Jam buka hari biasa:
Senin - Jumat : 09:00 - 19:00
Sabtu - Minggu : 10:00 - 18:00
Hari besar : Libur
Whatsapp Sales :
0895 6389 68383
Whatsapp CS :
0859 6000 0478
E-Mail :
[email protected]
Jaknot Xpress
Ruko Grand Boulevard Citra Raya blok T1A no.125
Ciakar, Banten
15710
Jam buka hari biasa:
Senin - Sabtu : 10:00 - 19:00
Minggu dan Hari besar : Libur
HP / Whatsapp :
0895 3313 71522
Remind Me when Item is Ready
1
Pengunjung sedang melihat Produk ini